AT&T, DirecTV and Content Monopolies
AT&T's acquisition of DirecTV can be a good thing if it can explain why it won't shut out content competitors such as Netflix. 
by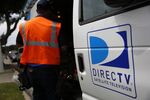 AT&T Inc. has come a step closer to Chief Executive Officer Randall Stephenson's vision of seamless connectivity by agreeing to acquire DirecTV. What he's after isn't the company's satellite-television platform, the biggest in the U.S. It's the content, which Stephenson wants to deliver "over multiple points for the customer, whether it be through a smartphone, through a tablet, or television or laptop."

The deal hinges on a content package called NFL Sunday Ticket, which allows football fans to watch games not carried by local stations. The service is exclusive to DirecTV, which pays about $1 billion per season for it. AT&T could offer it widely on mobile devices, something DirecTV is already doing for its subscribers. Given that more than two-thirds of all Internet connections these days occur on mobile networks, Sunday Ticket, priced at $330 per year, could generate much more revenue than DirecTV is now getting.
The football angle is part of a broader picture. The integrated telecom operator of the future -- the kind AT&T wants to be -- will own much of the product that moves through its channels. Right now, cable or satellite pay-TV subscribers can just pay for an Internet connection and use it to watch video the telecom provider doesn't own.
According to broadband networking company Sandvine, "real-time entertainment," mainly streaming video, accounts for more than 63 percent of North American downstream traffic (that which flows toward the user) during peak hours. Netflix Inc. accounts for 34.2 percent, with YouTube a distant second (13.2 percent). Other notable sources of video traffic include iTunes, Hulu LLC, Amazon.com Inc.'s video service and torrent trackers.
People are watching more video "over the top" -- on the Web rather than on TV -- and the number of pay TV subscribers is actually going down. As telecom service becomes seamless, people will not pay separately for a TV service and Internet access: They will just hook up to the Internet and sign up for various content services on it, the way they do to Netflix. Sandvine believes such "cord cutters" are taking control of Web traffic: The top 15 percent of the heaviest Internet users in North America download, on average, 212 gigabytes per month, compared with 29 gigabytes for the typical subscriber to both Internet and cable TV.
For DirecTV, the deal with AT&T is a way to keep selling its content to this new type of user. For AT&T, it's a chance to be more than just an infrastructure provider, to establish a presence in the content market. It's good for both companies and, yes, for consumers: They will be able to get content on more devices and in more situations than was possible before.
Herein lies the competition problem with the deal. As video quality improves and cord cutters increase monthly traffic, they may start bumping into providers' traffic caps, re/code's Peter Kafka recently predicted. So far, the caps have been too high for most people to notice. When more users start bumping into them, they will find out that Internet providers' own content channels do not count against the cap, while Netflix and other outsiders' services do. That may give the AT&Ts of this world an unfair advantage. In fact, if telecom operators own content channels, they do not have much incentive to let other content providers into their pipelines.
AT&T and DirecTV are taking a year for the regulatory approval of their deal, and they will probably be asked about the content monopoly aspect. They will need to make a clear case why regulators should let them compete with clients such as Netflix, whom they are now allowed to charge for access to the "pipes."
This column does not necessarily reflect the opinion of Bloomberg View's editorial board or Bloomberg LP, its owners and investors.