Sunday Question for Conservatives
Should Mitch McConnell remain the Republican Senate leader?
by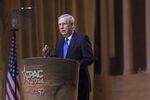 What do you think of the job that Mitch McConnell is doing as Senate minority leader? If Republicans win back the Senate, do you want him to continue as majority leader?
This column does not necessarily reflect the opinion of Bloomberg View's editorial board or Bloomberg LP, its owners and investors.