What Mattered This Week?
India's elections matter.
by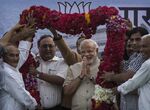 Have to think the election in India matters.
Wait, was the House in this week? I'm tempted to just say that nothing the House will do for the rest of the year matters. But since I don't know that for sure, I'll go instead with the Harry Reid bashing the Koch brothers. It's annoying, and it's not going to win any elections for the Democrats.
I'm curious about whether you think the turnover at the New York Times matters.
What else? What do you think mattered this week?
This column does not necessarily reflect the opinion of Bloomberg View's editorial board or Bloomberg LP, its owners and investors.