Why Be a Banker If You Can't Boast?
Thanks to increased regulatory attention, bankers have to pretend to be different animals than they really are.
by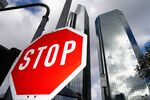 Of all the recent efforts by banks to improve the conduct and image of their employees, none has been worded as strongly as that of Deutsche Bank AG's head of markets, Colin Fan. "Being boastful, indiscreet and vulgar is not OK. It will have serious consequences for your career," Fan says sternly in an internal video published by the Financial Times.
There was a time, before links to videos could be sent out by e-mail, when Fan would have been booed off the trading floor. Here's a memorable passage about a Wall Street veteran from Michael Lewis's "Liar's Poker":
The Piranha didn't talk like a person. [...] No part of speech was spared. His world was filled with copulating inanimate objects and people getting their faces ripped off.

At the beginning of his video, Fan explains why Deutsche Bank employees need to think twice before they type anything or open their mouths: "You may not realize this, but right now, because of regulatory scrutiny, all your communications may be reviewed. This includes your e-mails, your conversations and your conduct."
It's not as much about being perfect ladies and gentlemen as about living in a glass house. Last month, Sir Win Bischoff, the former chairman of the U.K.'s Lloyds Bank Plc, said the cost to banks of various forms of misconduct has now overtaken bad loan provisions. In a report on the five biggest U.K.-based banks' 2013 results, KPMG LLP says the total bill for litigation, fines and customer redress has eaten up two-thirds of their cumulative profits since 2011. Swiss and U.S. banks have been beset with similar problems.
Deutsche, too, has taken a lot of punishment. Last year, it paid out $3.4 billion in litigation expenses. It was fined for allegedly deceiving derivatives clients, inadequately protecting customer assets, and rigging interest rate benchmarks -- in the latter case so heavily that it reported a surprise $1.57 billion loss in the fourth quarter of 2013. There's more pain to come: Its provision for contingent liabilities stood at $2.74 billion at the end of March, compared with $2 billion at the end of December.
If Deutsche Bank employees stop cussing on e-mail and in electronic chat rooms, the bank won't be spared the pain. It will, however, escape the embarrassment of having the world snicker at the puerile exchanges of bankers with six-figure incomes. It is a reasonable assumption that the more unpleasant bankers look to outsiders, the more they will be punished even for sins that might otherwise be overlooked. Even if payment for past sins cannot be avoided, bankers need to make believe they are good boys and girls so they're not demonized in the future.
"Only really significant change to the DNA, culture and values of banks can rebuild the organization to meet the needs of investors, customers and regulators," KPMG International preached in a recent report on the changing regulatory environment. A change in DNA, however, means turning into a different kind of animal. Recalling my own, thankfully brief, banking career (I was a managing director at the Russian investment bank KIT Finance Investment Bank), I don't see the point of being a banker if you cannot be boastful and, yes, sometimes indiscreet.
The words used to describe a bank's big moneymakers back when Michael Lewis worked for Salomon Brothers would all be against the rules Colin Fan laid down for his subordinates. But then again, in that era, banks were surging bulls, not scapegoats.
This column does not necessarily reflect the opinion of Bloomberg View's editorial board or Bloomberg LP, its owners and investors.