When You Can't Breathe, Drink
Air so awful, so utterly 10-plagues-Biblical as that in Beijing, was bound to be commemorated in art at some point. But who might have suspected that it'd be commemorated in beer?
by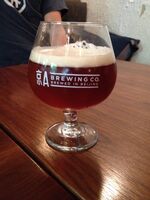 When the air becomes so polluted that breathing suggests damnation, you have what Beijing's English-speakers like to call an airpocalypse. It's unclear when the term was first used, but there's no argument about when it came into wide circulation: January 2013, when a long, record-setting smog left Beijingers breathing air 25 times worse than what's considered safe under U.S. government guidelines. The U.S. Embassy, which has a helpful scale to tell residents when air is "good," "lightly polluted," "unhealthy" and "hazardous," could offer nothing more useful than "beyond index" to describe a scene that resembled an airport smoking lounge allowed to expand to an entire city.