Editorial Board
What India Should Expect From Modi's Big Win
Narendra Modi's victory testifies to Indians' hunger for decisiveness and efficiency after years of policy drift and corruption scandals. 
by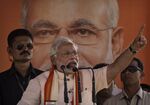 After five weeks of staggered voting, more than 550 million ballots cast and almost $5 billion spent, the world's largest democracy finally has a new leader. Yet the question that has loomed over India's long campaign remains: What kind of leader is Narendra Modi going to be?
Modi fought an impressive campaign, focused mostly on the right issues. He successfully cast the election as a referendum on who could better deliver jobs, government services and economic growth: himself or Rahul Gandhi, the ruling Congress party's heir apparent. The fact that Modi's Bharatiya Janata Party appears poised for a landslide victory -- the biggest for any party since 1984 -- testifies to Indians' hunger for decisiveness and efficiency after years of policy drift and corruption scandals.
Even Modi's jibes at Gandhi's silver-spoon pedigree were mostly on target. Having suffered its worst defeat ever under Rahul's leadership, the party now needs to look inward and seek a fresh identity liberated from the Nehru-Gandhi dynasty that has dominated its workings since independence. Modi played heavily on his past as a tea seller: The BJP win is in part a victory for merit over privilege.
Yet despite the massive mandate they appear to have delivered him, voters have little idea how Modi will govern. He has given no sign of how far he'll challenge his own supporters on economic and social policies. He hasn't said what compromises he'll strike, what allies he'll seek to enlist, or what vested interests he'll defy in prosecuting his ambitious agenda. It remains especially worrying that he's done nothing to own up to his past, which includes leading a state administration in Gujarat that let Hindu mobs massacre almost 1,000 Muslims in 2002. There's a reason the BJP appears to have won less than 10 percent of the Muslim vote.
Modi isn't the first candidate to cruise to victory on hope and hype -- and he wouldn't be the first to see disappointment set in fast. Investors expecting miracles are in for a letdown, because India's political system is bound to intervene. According to JPMorgan Chase & Co., some 70 to 80 percent of the regulatory and other roadblocks currently impeding big industrial projects aren't within Modi's power to remove. Bringing expectations gently in line with reality will be as big a test as making progress where he can.
A good place to start would be to keep an election promise to introduce a combined goods and services tax -- something his own party has long opposed because it would force revenue losses on state governments. (Modi should offset some of the losses using central revenues.) He should move to phase out petroleum subsidies. He should give state and local governments much greater flexibility in regulating labor markets, land sales and more. Economic competition among the states -- a model that Modi has long advocated -- is the best way to push the national economy forward.
True, several of those state governments will be run by political rivals. So much the better. Like any leader claiming a clear mandate, Modi will be tempted to ride roughshod over his weakened opponents. His record in Gujarat is not reassuring in this regard. From Russia's Vladimir Putin to Turkey's Recep Tayyip Erdogan, such charismatic figures tend to overreach, weakening their nations in the end. Modi would do better to find common ground. On economic policy, that shouldn't be impossible.
Above all, India's new leader must also reach out to the country's Muslims -- assuring them that he recognizes them as full and valued citizens, entitled to an equal measure of security, trust and respect. Such gestures might strike his hard-core supporters as unnecessary appeasement given the scale of the BJP victory, but he can't let that deflect him.
Modi's campaign was based in part on a simple point: India can no longer afford to muddle through, endlessly avoiding difficult decisions. He may have meant it as a political critique, but that doesn't make it any less true.
--Editors: Nisid Hajari, Clive Crook.
To contact the author on this story:
The Editors
To contact the editor on this story:
David Shipley at davidshipley@bloomberg.net
Before it's here, it's on the Bloomberg Terminal.
LEARN MORE