The 10 Things I'm Watching
Here are 10 things I'm keeping an eye on.
by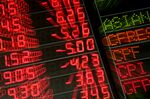 Every few months, I like to pull together an assortment of unrelated items that I find interesting (See this). These items include things that are not quite fully baked in my mind, not yet a full column. While I wait for these to jell, I like to put them on paper to create a bookmark of ideas, and to see what generates feedback and debate.
The main qualification is that they are both interesting and potentially significant. Here are my 10 random items to round out our week:
1. All-time highs: Markets are within a few percent of record highs. Each and every pullback, if we believe the noise, is the end of the rally and the start of the next bear market. Unless it isn't, in which case, never mind, we will be back with the same forecast when the market is 5 percent higher. I can't recall so much angst amid so many all-time market highs; every pullback is the end of the world. It is both fascinating and perplexing
2. Housing: Housing has begun to sputter. New starts have been lower, permits soft, existing home sales disappointing. Yes, I know, the weather was awful in January and February -- but it's now May heading into June, and that excuse no longer carries. This is prime residential real-estate selling season, and it seems to be limp.
The entire post-crash housing recovery has felt artificial, part of an attempt to prop up the big banks that had billions of dollars in bad loans on their books. The past five years of zero-interest-rate policy was designed to buy time so banks could get out from under their sour mortgages, But inventory is low, and interest rates are falling, so I am unsure how this plays out. Regardless, there are going to be some fascinating analyses written on the real-estate boom, bust, reflation, and whatever comes next. Look for it in whatever replaces your local bookstore in 2025.
3. Secular bull market?: Jeff Saut of Raymond James believes we are in a secular bull market. He noted that in the 1980-85 period many investors continued to doubt that the earlier 16-year bear market was over. Very, very few were willing to accept that the cycle had turned. There are many parallels between this era and that, and I am slowly moving into Saut's camp.
4. Reading: I have five books in my queue to read over the next month: I am almost done with ``Clash of the Financial Pundits.'' Up next is ``Think Like a Freak,'' then ``Naked Statistics, Millennial Money,'' and finally ``Octopus! The Most Mysterious Creature in the Sea'' (really).
5. Earnings season: Despite what you have been told, earnings season was solid. Both revenue and earnings posted more positive surprises than average. Yes, earnings relative to gross domestic product is at an all-time high, something people have been telling me for six straight quarters now.
Like all ratios, GDP/earnings has two sides: To revert back to its historical mean, either earnings must come down, or -- and no one seems to be really considering this -- GDP must accelerate. I have no idea which way this mean reversion will go. But I am considering the latter as much as the former.
6. FASB Rule 157: The suspension of fair-value accounting during the financial crisis (See FASB Rule 157) was supposedly an emergency measure. It allowed banks to carry liabilities on their books at prices that were their best guess as to true value. These weren't actual market prices, despite the availability of such data. You may recall these valuations were sometime described as "mark-to-make-believe." It has allowed banks to hide all manner of bad investments on their books by carrying them at cost, instead of present value. Now that the emergency has passed, perhaps it is time to revisit this emergency rule-change.
7. Masters of finance: Thanks to a project I am working on at Bloomberg, I have been privileged to hang out with some of the greats in finance. Some of the conversations were just astounding, and thankfully, someone remembered to push the record button. I am super jazzed about this, and when we make the announcement, you will be too.
8. New and old media: The death of media has been greatly exaggerated. New sites are driving news coverage, analytics and commentary. Consider Upshot, Vox, 538, Quartz, Buzzfeed, Business Insider, ReCode, KnowMore, and the site you are seeing this on, Bloomberg View. There is a dynamism and innovative spirit that has seeped into the staid old world of media, and it is exhilarating.
9. Yield curve: Short and sweet: The yield curve is steep -- but not too steep. When yield curves invert, we invariably get recessions and most of the time, market corrections. But the curve is nowhere near inverting. This is a big positive for the economy, and for equity markets as well.
10. Television: We are living in a golden age of television. Perhaps what is a surprise is that my viewing includes almost no big traditional networks. My list of must watch current TV shows include: ``Louie'' (FX), ``VICE'' (HBO), ``Maron'' (IFC), ``Dr. Who'' (BBC), ``Californication'' (Showtime), ``Top Gear'' (BBC), and ``Cosmos'' (Fox). Old TV shows streamed from Netflix or DVD include: ``30 Rock'' (NBC), ``Breaking Bad'' (AMC), ``Mad Men'' (AMC). It is an embarrassment of riches.
That is my list of 10 things. Maybe some of these become columns, others will recede into the background.
This column does not necessarily reflect the opinion of Bloomberg View's editorial board or Bloomberg LP, its owners and investors.