Shareholders Find Strange Treasures in Jewelry Merger
If pitching for an advisory assignment left you with a conflict of interest, then every bank would always have a conflict of interest. Maybe they do?
by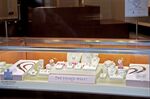 I said the other day that Valeant's proposal to buy Allergan is a weird textbook for the future of M&A, but what is the Signet/Zale deal? One thing it is is a slightly embarrassing glimpse at M&A of the present. Steven Davidoff explains:
Bank of America represented Zale in the transaction. At the time of its retention, Bank of America advised Zale that it had "limited prior relationships and no conflicts with Signet."

But Bank of America apparently delivered an unsolicited presentation to Signet on Oct. 7, 2013, in which it promoted an acquisition of Zale by Signet at a price range of $17 to $21 a share. This was the day after the first day that Signet reached out to Zale about an acquisition. A member of the Bank of America team that made that presentation was also subsequently on Bank of America's Zale team.
Quick background: Signet Jewelers (Kay, Jared) has agreed to buy Zale Corporation (Zales) for $21 a share; the shareholder vote on the deal is scheduled for May 29, and Zale 9.5 percent shareholder TIG Advisors is fighting the deal, arguing, as one does, that it undervalues the company. TIG has an interesting case; Zale is mid-turnaround and its management projections are way above what Wall Street expected, and seem to support a higher price. 1 Zale closed today at $22.29, suggesting that some people agree.
But TIG has other, stranger, arguments. One is the Bank of America thing: "We question the credibility of BofA's opinion that $21/share is fair price for Zale's shares when just months before in an attempt to win Signet's business BofA had estimated a $17‐$21 value for the shares in a presentation to Signet. Who was BofA working for when they reached the $21 valuation?"
I mean, the answer is Zale, right? Like, they pitched Signet for a buy-side mandate. They were rejected (Signet hired JPMorgan). Later -- November 11 -- they pitched Zale for the sell-side mandate. They got that. Then they set to work doing their sell-side thing, trying to get the highest price they could get consistent with getting a deal done and remaining well-liked by the surviving acquirer and all the conflicts of interest that are inherent in the banking model and not at all related to the fact that BofA had once pitched the buyer.
So ... I'm cool with that? You don't contract a conflict of interest just because you've pitched the other side on doing this deal. You've pitched everyone, everywhere, on doing every deal. That is your life! What do retail investment bankers do if not fly around the country telling retailers that they should buy, or be bought by, other retailers? You rub the sticks together until a spark comes out.
Davidoff, like TIG, is unimpressed, saying that "Claims that Bank of America was working both sides are not pleasant." But these concerns probably give more credit to BofA than it deserves. Bank of America didn't tell Signet to buy Zale for $17 to $21 because it thought the world would be a better place if a deal happened at that price, or because it found Signet really impressive and wanted to give it the gift of an underpriced acquisition. It told Signet to buy Zale for $17 to $21 because it wanted to get paid a great big fee for facilitating that deal, and if there's no deal, there's no fee.
Conversely, if there's no fee, there's no conflict: BofA's loyalty to Signet lasted as long as the pitch meeting, plus the couple of days afterwards where the banker was hoping to hear back. Certainly once Signet passed on paying BofA a big pile of money, and once Zale agreed to pay BofA a similar pile of money (around $12 million), there wasn't much reason for BofA to feel any loyalty to Signet.
This feels embarrassing, and seems to have annoyed Zale's board, 2 because there's still some leftover notion of banking as a relationship business where you are a long-term adviser to a company rather than a transactional broker working for whoever's paying you this month. BofA made its lack of loyalty clear -- awkwardly, after the fact. But disinterest is not the same as conflict of interest.
Meanwhile Ronald Barusch at Dealpolitik writes about another goofy argument of TIG's: that shareholders should abstain from this month's merger vote, depriving the meeting of a quorum and letting Zale postpone the vote until a quorum (a majority of outstanding Zale shares) can be obtained. Here is TIG:
Because the Merger Agreement sets an "end date" of 2/19/2015, by which the transaction must be completed or automatically terminate on its own terms, Zale can reschedule or adjourn a special meeting lacking quorum and as long as stockholder approval is obtained before 2/19/2015, it is highly likely the merger agreement will remain in intact (as long as Zale does not breach representations and warranties for instance). ...

TIG Advisors believes that the Zale Board of Directors, knowingly or unknowingly, negotiated an extremely valuable asset for holders of Zale.

One could see the Put implicit in the merger agreement as providing significant additional value to ZLC shares today. For example purposes only, assuming ZLC is fairly valued on a standalone basis at $18.00, one might conclude that ZLC shares are presently worth $22.47-$24.37 including the value of the "Put," depending on one's volatility assumption, if shareholders elect to not form a quorum.
Ha! The idea is that you let Zale float along as a standalone company, executing its turnaround plan, for another six or nine months. If the turnaround plan goes well, the stock is worth more than $21 and you forget about the Signet deal (or demand a higher price). If the turnaround goes poorly, then the merger agreement provides you a put option, and you exercise it (vote for the merger) and sell to Signet at $21. 3
This is delightful. Barusch is a spoilsport, pointing out that you need really good coordination among all the opposed shareholders -- the biggest holder, Golden Gate Capital, has some 23 percent and seems to favor the deal -- to make this work. If some opposed holders abstain and others vote against, you might end up rejecting the deal and losing the value of the put option.
But if you buy TIG's theory, then that problem should be solvable, no? If they're right that Zale shareholders have a put option struck at $21 and exercisable until February, then it would never be rational for shareholders to exercise the option early: 4 The shares plus the option will always be worth more than $21, so you should never sell out for $21. If you want the cash, you should just sell to those who want the stock-plus-option package for more than $21; Zale's $22.29 price sort of suggests that that's happening. 5 And it would certainly never make sense to just cancel the option early, for no consideration: You'd never vote against the deal if you could abstain.
Of course this merger put theory is not quite right: There's always a risk that a material adverse effect, a violation of a rep or warranty, a buyer bankruptcy, or whatever will prevent the deal from happening. The point of a cash merger is to provide near-term certain cash consideration to the selling shareholders; it's risky business for those shareholders to string along the buyer hoping for a better deal.
But it's sort of right, at least sometimes. And this deal -- where "Zale's business surprises to the upside" seems, at least for now, more likely than "Zale suffers a material adverse effect" -- seems like as good a test case as any. And if it works here you might see future bidders examine it more rigorously, demanding shorter drop-dead dates or else charging "option premium" for longer ones. 6 If you enjoy strange new twists on mergers and acquisitions, that seems like a good thing to root for.
To contact the author on this story:
Matthew S Levine at mlevine51@bloomberg.net
To contact the editor on this story:
Toby Harshaw at tharshaw@bloomberg.net
Before it's here, it's on the Bloomberg Terminal.
LEARN MORE