India's Latest Miracle Man
India's economic difficulties are structural and deep-rooted, and they won't disappear with the waving of a charismatic leader's magic wand.
by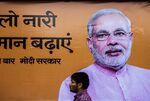 The ascent of an apparently decisive man as India's next prime minister has been greeted euphorically by the country's stock market, which has risen to record levels in recent days. Foreign investment may start flowing again, and, with fresh reforms on the anvil, India seems back on track to become the world's next economic powerhouse.