Hey, Wanna Coach the New York Knicks?
Now that Steve Kerr is off the table, does anybody want to coach the Knicks?
by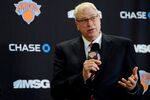 People are still trying to wrap their heads around Steve Kerr's stunning announcement that he will become the next head coach of the Golden State Warriors despite the month-long hard sell made by Phil Jackson and the New York Knicks. It's a decision that makes sense, both in terms of basketball and life, as Kerr reportedly wanted to stay near his family, with whom he now lives in San Diego.
Still, it can't have been easy to say no to Jackson, who's not used to not getting his way and must now "regroup" in his search for the next Knicks coach.
Mark Jackson
It would be rather poetic if the guy the Knicks ultimately hired was the guy Kerr spurned them to replace. Three years ago, Jackson went to a Warriors team that had had only four winning seasons and three playoff appearances over 20 years and whose coaches during that time were most famous for getting choked by Latrell Sprewell. Under Jackson, the Warriors found themselves relevant again, winning 47 games last season and 51 this season. They made the playoffs twice, pushing the Los Angeles Clippers to a Game 7 in this year's first round. Now that he has some success and experience under his belt, the defense-minded Jackson would be the perfect candidate to help turn around a Knicks team that was, in a word, "atrocious" on the other side of the ball.
Jackson is also a homegrown kid in every sense, hailing from Queens and winning Rookie of the Year with the Knicks in 1988. Knicks fans love him, but more importantly, so does Carmelo Anthony, who is set on testing free agency this offseason and reportedly would "embrace" Jackson as his coach.
There are a few snags, however, as I've written before: Phil Jackson seems intent on hiring someone he knows, like Kerr, and who is familiar with the triangle offense. Meanwhile, Mark Jackson's departure from Golden State was in part due to highly publicized tension between him and his management. (He also might want to evolve a bit on his stance on gay athletes, given that in New York, we take our civil rights very seriously.) Mark makes sense in many ways, but ultimately egos and personalities might prove to be the deciding factor. He said last week that the Knicks had not reached out to him.
Brian Shaw
Of course, there's history there: Shaw played under Phil Jackson in Los Angeles and served as his assistant coach for years. He was expected to take over as head coach once Jackson left the Lakers, but was passed over for Mike Brown. He just wrapped up his first season as a head coach, finishing 36-46 on the Denver Nuggets. Shaw says he's not interested in leaving, but he kind of has to say that -- at least until he gets an offer.
Jeff Van Gundy
If the Knicks really want to make a splash, look no further than crowd-favorite Van Gundy, who earned his stripes as an NBA head coach in New York. The Van Gundy Knicks were the last team with a solid identity, perennial playoff contenders who made it to the NBA Finals in 1999 and gave us memorable moments such as Larry Johnson's four-point play (LJ!) and Alonzo Mourning quite literally wiping the Madison Square Garden floor with Van Gundy. Van Gundy left New York with a 248-172 record and a lasting image in the minds of all Knicks fans. He's coached here, he's won here, and he's beloved here (to the point at which we're willing to forget he quit on us in 2001.)
The bad news? Like Mark Jackson, Van Gundy's not in Phil's inner circle, and it's hard to imagine such a veteran coach taking orders from above. The good news: Colin Cowherd asked Van Gundy yesterday about the possibility of coaching the Knicks, and he seemed somewhat open to it.
Kurt Rambis
Rambis' name is floating around right now among those who know Phil and can implement the triangle. He was an assistant coach on the Los Angeles Lakers under Jackson for years, and has experience as a head coach himself. Unfortunately, that experience isn't exactly a picture of success: In two seasons with the Minnesota Timberwolves, Rambis finished with a 29-132 record.
Bill Cartwright
Phil Jackson has reportedly been in talks with Cartwright to be an assistant coach, but with the loss of Kerr and pretty much no backup plan, he could very well be considered for the head job. Cartwright knows the triangle well, playing on the Bulls under Jackson for five seasons and then serving as his assistant coach.
Cartwright also has a history with New York: The Knicks drafted him in 1979, and he spent the first eight years of his career here. He's also quite familiar with a particularly important current Knick: Amar'e Stoudemire, who played for the Phoenix Suns while Cartwright was an assistant there -- a position, incidentally, given to him by then-Suns GM Steve Kerr.
On paper, however, Cartwright's head coaching record isn't particularly impressive. He coached the Bulls from 2001 to 2004, during their post- Jordan/Pippen/Jackson transition, finishing with a 51-100 record.
Derek Fisher, Luke Walton, Tyronn Lue, Mark Madsen
If these four names sound silly to you, it's because they are. ESPN's Marc Stein and Ramona Shelburne threw out the idea of these former Lakers coming to the Knicks, given their familiarity with both Phil and his triangle. But in case you've forgotten, Fisher is using his old-man hands to hold onto his playing career, currently appearing in the Western Conference semifinals as a member of the Oklahoma City Thunder. Walton and Madsen are both now player development coaches on the Lakers' D-League team. Lue has the most coaching experience of them all, having served as an assistant on the Boston Celtics and currently on the Clippers.
Then again, Fisher has hinted at retirement by the end of this season, and Madsen has been eyeing a bench job for quite some time. With these four, lack of experience might actually be their most valuable asset to Phil Jackson, who's looking to mold a coach in his image. (Plus, crazier things have happened this week -- see Van Gundy, Stan and Pistons, Detroit.)
Phil Jackson
Of course, any of these candidates would simply be a placeholder for however long it takes Phil to come to his senses and get the itch to coach again. He continues to maintain that he has no desire to return to the sideline, but it's just a matter of time before he realizes that if he wants something done right, he's got to do it himself, especially when it comes to the triangle.
This column does not necessarily reflect the opinion of Bloomberg View's editorial board or Bloomberg LP, its owners and investors.