Bernstein's Friday Baseball Blogging: Weak Case for Jack Morris in Hall of Fame
Pitcher Jack Morris doesn't lead the May 16 rotation.
by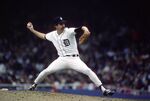 I apologize in advance for going over this ground again, but how about these three lines:
IP W-L ERA ERA+ WAR JAWS
3548.1 214-191 3.37 114 70.0 56.9
2593.2 151-125 3.59 104 30.2 33.2
3824.0 254-186 3.90 105 43.8 38.4
That's birthday boys Rick Reuschel, top, Rick Rhoden, middle, and Jack Morris,bottom, to show once again that the Hall of Fame case for Morris is pathetically weak. He's better than Rhoden, but he's also a lot closer to the forgotten Dodgers starter than he is to Big Daddy.
Alas, Reuschel was awful in the postseason. But Morris (one famous game notwithstanding) wasn't anything special, finishing with a 3.80 ERA.
The rest is all just about the difference between Lou Whitaker, Alan Trammell, Kirk Gibson, and Lance Parrish on the one hand and guys such as Pete LaCock and Mick Kelleher on the other. Give Reuschel Will Clark and Kevin Mitchell behind him throughout his career, and those 40 extra wins would show up right away.
The fourth guy in the All May 16 rotation, by the way, is Watty Clark, who I know nothing about but who apparently had a full career with bad Brooklyn teams broken up by a brief stint to the Polo Grounds and back. Huh. That's not a bad birthday rotation. Probably not the best ever, but I bet it's in the top 20, maybe top 10. Anyone know what day has the strongest all-time team?
This column does not necessarily reflect the opinion of Bloomberg View's editorial board or Bloomberg LP, its owners and investors.