Why China's Hooked on Drugs
Overprescription of pharmaceuticals is a serious, long-standing problem in China that's at least partly driven by "financial incentives" -- such as bribes -- handed out by pharmaceutical companies to doctors and hospitals. 
by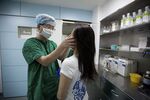 On Wednesday, China's Ministry of Public Security accused GlaxoSmithKline's top executive in China of orchestrating a nationwide network of bribery designed to boost the pharmaceutical giant's sales in one of the world's fastest-growing drug markets. Doctors, hospitals, medical associations and government officials all allegedly benefited from the largesse, while Chinese patients -- already struggling with growing medical bills -- paid higher prices for drugs that, in many cases, they probably didn't need. That's a despicable outcome if true, and it raises an unsettling question: Did GlaxoSmithKline's alleged bribery network have a negative effect on public health inside and outside of China?
The question isn't theoretical. Overprescription of pharmaceuticals is a serious, long-standing problem in China that's at least partly driven by "financial incentives" -- such as bribes -- handed out by pharmaceutical companies to doctors and hospitals. The raw numbers are disturbing. According to a 2012 peer-reviewed paper in Health Affairs, Chinese patients visiting urban primary-care institutions were prescribed 2.6 drugs per visit -- a rate that exceeds World Health Organization guidelines by almost one drug per visit. Even more concerning, 4 out of 10 patients were prescribed antibiotics -- a rate that's double the World Health Organization's recommendations. Such overprescription contributes to growing rates of dangerous antibiotic resistance in China and globally, as documented in an April WHO report.
How did China's health-care system arrive at such a dangerous pass? The problems started with reforms in the early 1980s that transformed a largely free, government-subsidized health-care system into one in which the government contributed -- on average -- less than 20 percent to public hospital budgets in 2011, according to one peer-reviewed journal. (Two weeks ago, Hong Kong's South China Morning Post estimated that the government subsidy now accounts for 7 percent of public hospital revenues.) The reforms might have worked out well for the hospitals but for the fact that prices for hospital services remained highly regulated. In Shanghai, for example, an inpatient hospital visit might cost little more than $1.50, leaving the hospitals to take in patients and find revenue elsewhere.
Chinese hospitals have few alternatives outside of pharmaceutical sales to supplement their revenues. Sure enough, drug sales accounted for more than 40 percent of Chinese hospital revenue in 2011, according to Chinese government data. In the developed Organization for Economic Cooperation and Development countries, such sales accounted for 19 percent. Meanwhile, though data is sparse, it's a widely acknowledged fact among Chinese regulators and researchers that a sizable percentage of physician income also derives from pharmaceutical sales. Kickbacks can range as high as 20 percent, and markups -- which are regulated at no more than 15 percent -- typically range higher.
This places an unhealthy burden on pharmaceutical manufacturers who must -- to be crude -- face pressure to pay to play in China. The government claims that in pursuit of market share, Glaxo paid. The result was a healthy Chinese business allegedly built on prescriptions that were more profitable than they were medically necessary. The former was certainly known to Glaxo. The latter, if it wasn't, should have been.
Of course, the bribes and other means of leveraging market share alleged to be used by Glaxo probably weren't pioneered by the company. Indeed, as relatively late entries into the Chinese health-care market, foreign drugmakers are probably less sophisticated in the means and methods they use than their Chinese competitors. That fact, combined with the Chinese government's preference for targeting foreign competitors over domestic industries, probably accounts for why Glaxo has been targeted in the investigation.
But Glaxo shouldn't take solace in the knowledge that it's no worse than its competitors. As a company that claims (on its website, for example) to take a serious interest in problems associated with overprescription and antibiotic resistance, it has an obligation to make sure that its marketing practices (legal or otherwise) aren't contributing to long-term public health problems. The ongoing investigation into its conduct in China raises suspicions that important members of the company's leadership team simply didn't care if they did or not.
This column does not necessarily reflect the opinion of Bloomberg View's editorial board or Bloomberg LP, its owners and investors.