Today's Good News From Japan Is Terrible
Ignore today's dramatic Japanese growth figures. Some analysts think the Bank of Japan may soon double or even triple the size of its already huge monetary easing program. 
by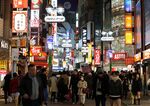 Global markets long ago got used to the "Greenspan put." But they haven't seen anything like the "Kuroda put" that Japan's central bank governor may soon implement.
Ignore today's dramatic Japanese growth figures. When you raise sales taxes in a deflation-wracked economy for the first time in 17 years, you're going to get a surge in anticipatory shopping. Therein lies the explanation to the 5.9 percent jump in gross domestic product in the first quarter from the previous one. But do pay attention to Haruhiko Kuroda's comments after the data were released: The urgency to increase Japan's growth is increasing.
Paul Sheard, chief global economist at Standard & Poor's, thinks Kuroda's Bank of Japan may soon "double or even triple down" on the size of its already huge monetary easing. The 12 percent rout in Japanese equities this year is irking the ruling Liberal Democratic Party. The pressure is on Kuroda to do more than just double bond purchases as he did a year ago -- much more. Hence the chatter about a Kuroda put.
The monetary put concept became a matter of market convention during Alan Greenspan's 1987-2006 tenure as Federal Reserve chairman. Greenspan rarely saw a disturbance in the economy that didn't warrant a market-soothing injection of credit. Kuroda has thus far adopted a quieter strategy; much of the BOJ's market-supporting efforts have involved buying up government bonds, in contrast to the gong-ringing moves Greenspan favored.
That's about to change. Kuroda is finding that his monetary largess isn't boosting credit creation as hoped. Inflation, yes, as Japan imports more energy with a weaker yen. But the kind of monetary multiplier effect the BOJ hoped to unleash by now remains elusive, as the experience of Mizuho Financial Group and Japan's other two biggest banks demonstrate. All three are forecasting a drop in earnings for this year as loan growth loses momentum and returns from stock investments wane.
Kuroda is a respected economist who's staked his entire legacy on ending Japan's deflation. What's more, Prime Minister Shinzo Abe isn't coming through with sweeping structural reforms to boost consumer demand and business confidence. However unfairly, that puts the onus on Kuroda. It also places Japan in uncharted territory. Will bond traders sit back passively if the BOJ adds lots more stimulus to the economy? It's impossible to tell.
Serendipitously, Greenspan re-entered the debate this week, telling a Washington forum that it's a mistake to believe that inflation isn't a threat. Of course, that's a bit rich coming from a man whose legacy is more "Mr. Bubble" than "Maestro," the title of Bob Woodward's gushing 2001 biography. Still, Greenspan isn't alone in wondering whether the surprising 0.6 percent surge in U.S. producer prices in April is an aberration or a sign of trouble to come.
One challenge for Kuroda is filling the void that the Janet Yellen Fed appears set on creating. As the U.S. central bank tapers, the BOJ may feel compelled to offset any loss of global liquidity -- especially if it hits demand in China, Japan's biggest customer. The odds don't favor a big inflation problem in Japan. The nation's fast-aging population and China's slowdown could just as easily exacerbate deflationary forces. But the question is what the bond vigilantes do.
Japan gets away with the world's biggest debt burden because more than 90 percent of government debt is held domestically. That doesn't ensure that banks, pension funds, insurance companies and retirees will sit by passively if they fear the BOJ is going the way of Weimar Germany. Only time will tell if the Kuroda put can maintain calm in global markets. But it's far from a sure bet.
This column does not necessarily reflect the opinion of Bloomberg View's editorial board or Bloomberg LP, its owners and investors.