McConnell's Ideology-Free Policy Blockade
Minority leader is trying to block any policy, not just ones he opposes. 
by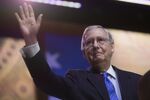 More on Senate Minority Leader Mitch McConnell's strategy of all-out rejectionism. As I wrote earlier, part of the problem with this approach is that it sacrifices achievable policy gains for potential down-the-road electoral gains. I should clarify a bit.