France Needs More Free Market Fans
Politicians follow the polls in regulating business with a heavier hand, but in the end it's their popularity that suffers.
by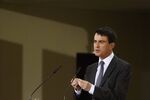 The French government is expanding its control over business, in what Economy Minister Arnaud Montebourg has described as "the end of laissez-faire." It's a natural reaction to people's loss of trust in big business after the 2008 financial crisis. Problem is, the government is even less trusted.
A new decree signed by Prime Minister Manuel Valls -- which enhances the government's veto power over foreign investment -- illustrates the growing importance of "economic patriotism" in French political discourse. The idea, as expressed by center-right politician Bernard Carayon, is that France's major trading partners, notably the U.S., protect their national champions from foreign corporate aggression, so France should do the same.
Prime Minister Dominique Villepin invoked the concept in 2005, when rumors that Pepsi was about to take over yogurt maker Danone, a French industry icon, created a panic in political circles and the media. Villepin signed a decree granting the government the right to stop foreigners from acquiring more than 33.33 percent of French companies in "strategic" industries, such as gambling, medical research, various security services, cryptography and the production of weapons and dual-use goods. Although yogurt was not included, the decree protects such enterprises as France's leading hotel group Accor, which operates casinos.
Valls, who represents the Socialist Party and is Villepin's political antipode, is aiming to surpass his predecessor's "patriotisme economique." The new decree added five "strategic" sectors to the 2005 list: energy, transport and utility networks, water, electronic communications, and health care. This could be a problem for General Electric's $17 billion bid to acquire the energy units of French multinational conglomerate Alstom. The French government is known to oppose the takeover on current terms.
The people of France are big on "economic patriotism." In a recent poll commissioned by the business newspaper Les Echos, 59 percent of respondents said they think it is good for the French economy. Only 38 percent disagreed. Even in the U.S., where the term continues to raise eyebrows, President Barack Obama used it in a 2012 campaign ad -- not in the narrow sense of keeping foreigners out, but in the broader one of making the wealthy pay more tax and exercising more government control of big business. In the U.K., more than 60 percent of voters want the next government to be tougher on big business.
The paradox is that while people want governments to regulate business more stringently in principle, they don't really trust real-life governments to do it right. I've compiled some data from the Edelman Trust Barometer for 2008, 2009 and 2014, and here's what they show:
In 2008, before the financial crisis, people in developed countries -- though not in France -- tended to trust business more than government, and the gap was actually growing. In 2009, the crisis sharply reversed the balance in countries such as Germany, Spain and Italy, and trimmed business's lead in the U.K. and the U.S. Five years later, however, business is more trusted again -- even in France with its long socialist tradition. Trust in government is at historic lows in Italy and Spain.
The recovering trust in business might be the result of tighter regulation. That said, it could also be the market's invisible hand working. Perhaps the economic results of governments' greater control of business have not been up to people's expectations. Dirigiste France, after all, has just reported another quarter of zero growth. In that case, polls calling for more regulation could be indicative of inertia rather than conviction, and ruling with a lighter hand to speed up growth could actually give politicians a bigger popularity boost.
In short, perhaps it's time for free marketeers to come out of hiding.
This column does not necessarily reflect the opinion of Bloomberg View's editorial board or Bloomberg LP, its owners and investors.