Conyers's Mistake Highlights a Bigger Problem
John Conyers's registration woes raise a bigger question: Why do ballots close so far before Election Day?
by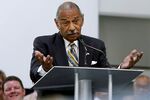 A Michigan county clerk ruled this week that John Conyers, who has served 49 years in Congress, is ineligible to appear on the November general election ballot as a Democrat because unregistered voters collected most of his ballot petition signatures. If Conyers loses his appeal, he says he intends to run as an independent or mount a write-in campaign.