Black NBA Coaches Play a Different Ballgame
The numbers suggest there's no disparity between black and white coaches, but do they tell the whole story?
by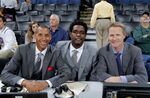 This is the second post examining the perceived inequality between black and white coaches in the NBA. For part one, click here .
In my previous post, I crunched the numbers to see whether black NBA coaches are afforded the same opportunities as their white counterparts. I have to admit that I was surprised myself to see little to no difference in tenures and winning percentages. Why is it so easy to believe that there's a disparity, and do the numbers tell the whole story?
For one, high-profile cases tend to overshadow the bevy of coaches who simply get lost in the fray after a season or two. (Recall that there have been 122 different head coaches in the NBA since 2004-05 -- how many can you name?) People such as Avery Johnson and Byron Scott -- talented black coaches who have been scapegoated by management more than once -- skew the narrative toward a systemic problem.
At the same time, looking at this season in a vacuum would suggest an unfavorable trend. True, at the start of 2013-14, 12 of the 30 coaches were black, suggesting the league is closer than ever to parity.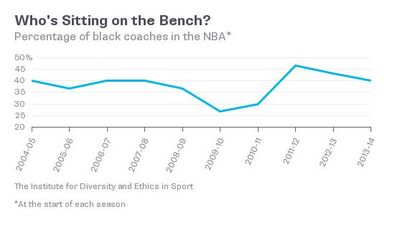 But Mo Cheeks was fired in Detroit after just 50 games and a 21-29 record, part of a front-office overhaul that eventually saw the resignation of Joe Dumars, the Pistons' long-time president and one of the few African-American C-level executives in the NBA. It's not even the off-season yet, and aside from Cheeks, there have been five coaches fired, four of them black. (Rick Adelman also retired after a three-year stint with the Timberwolves.) Tyrone Corbin, who took over for Jerry Sloan on the Jazz in 2010-11, was let go after a little more than three seasons, two of which his team finished above .500. Mike Brown was just fired by the Cleveland Cavaliers (again) after only one season, though this time it makes more sense than that time they fired him to make LeBron James happy. And while everyone knew the Knicks under Phil Jackson weren't going to stay with Mike Woodson, that doesn't make him any less of a scapegoat, one who left New York with a .580 winning percentage and having taken the team to its first playoff win in 13 years.
Then, of course, there's Mark Jackson, whose replacement is causing much of this discussion of race. For the past few weeks, the Warriors, Knicks, Lakers and Jazz had been courting Steve Kerr, who has no coaching experience, and some are wondering what makes this guy so special when experienced coaches including Johnson and Lionel Hollins are available. It's no secret: Kerr carries the Zen Master's seal of approval. He's Phil Jackson's guy, and that's good enough for everyone. In addition, Kerr also reportedly has a close relationship with the son of Warriors owner Joe Lacob. Kerr surprised everyone last night -- most of all Phil -- when he announced he was spurning the Knicks and signing with the Warriors in a five-year, $25 million deal.
The Detroit Pistons just made a baffling move of their own, hiring Stan Van Gundy for the dual role of coach and president of basketball operations. Van Gundy is a sideline veteran, but has no front office experience, and his signing appears to be more about making headlines and proving that basketball is still relevant in Detroit than any sound organizational strategy. Van Gundy is a splashy name famous (and infamous) throughout the NBA, but as USA Today's Drew Sharp notes, "the best candidate's often the guy you've never heard of."
As Stephen A. Smith notes, the cases of Kerr and Van Gundy demonstrate the less-material benefit white coaching candidates may have over blacks: networking. Unequal access to the inside track won't show up on any numbers sheet, and it's also not an issue exclusive to the NBA. Nancy DiTomaso's "The American Non-Dilemma: Racial Inequality Without Racism," studies the uneven unemployment rates between blacks and white and describes a system that discriminates without racism. She found that while whites help out their friends, who are overwhelmingly white, blacks lack the social networks to expose them to opportunities. Good jobs therefore stay within a relatively insular white population that often doesn't realize it amounts to discrimination. "The vast majority assumed everyone has the same opportunities, and they just somehow tried harder, were smarter," DiTomaso told The Huffington Post last March. "Not seeing how whites help other whites as the primary way that inequality gets reproduced today is very helpful. It's easy on the mind."
There might not be a tangible disparity between the firing of white and black head coaches, but that doesn't mean the two are afforded the same opportunities in hiring. With very few African-American CEOs, GMs and team presidents, black coaches can't always count on their social networks to tap into open positions the way Kerr and Van Gundy have been able to. The good news is that the NBA is still the most diverse league with the most diverse fanbase, and its racial hiring practices are touted as an example to the rest of professional sports. Understanding the ways in which discrimination does exist, and realizing that it doesn't always manifest in coaching tenure and winning percentage, is just another step in the march of progress.
This column does not necessarily reflect the opinion of Bloomberg View's editorial board or Bloomberg LP, its owners and investors.