Editorial Board
Turkey's Tragedy and Erdogan's Thoughtlessness
Coal mining disasters are not inevitable -- not in 2014, not in a country with Turkey's resources and technical sophistication.
by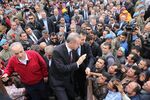 Turkish Prime Minister Recep Tayyip Erdogan may have his facts right, but he has his century wrong -- and his timing is crass.
The most deadly mining accident in Turkish history occurred yesterday in Soma, with at least 274 dead and more missing. As rescue work continued, Erdogan arrived to offer condolences and pledge an investigation. He also, inexplicably, offered a kind of history lesson, saying mining accidents "are the nature of the business" and citing an 1866 accident at a mine in the U.K. that killed 361, a U.S. accident in 1907 that took 307 lives and a 1947 catastrophe in China in which 1,549 died.
The implication is that there is only so much government can do to prevent such accidents. Yet coal mining disasters of this scale are not inevitable -- not in 2014, not in a country with Turkey's resources and technical sophistication.
The history of coal mining in the U.S. shows what can be done. Mining disasters were once far more common in the U.S., as Erdogan noted, as well as in the U.K. No longer:

And it's not just developed countries that have improved their mine-safety record and reduced the human cost of extracting coal. China's coal industry averaged 6,151 deaths a year from 2000 to 2005, falling to a still-horrendous 1,049 last year. Much of that was due to reduced production and the closure of illegal mines as demand has fallen since the financial crisis; China remains in a far worse position than Turkey. Still, the Chinese government has acknowledged the problem and has been shutting down unsafe mines in response.
Emerging economies such as Turkey's need plentiful cheap energy, and that has costs -- in terms of worker deaths, pollution and others. Yet governments can take action to reduce those costs, and should be held to account when they don't. Just two weeks ago, Erdogan's party rejected a proposal for a commission to inspect safety conditions at mines in Soma. It's that history, not the mining accidents of the 19th and 20th centuries, that Erdogan must reckon with.