Russia Is Turning Elon Musk into Tony Stark
Russia is playing into Elon Musk's hands by threatening to ban rocket engine sales to the U.S. The Tesla founder is using this to muscle into the satellite launch market.
by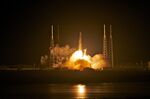 If the Ukraine crisis did not exist, Tesla founder Elon Musk would want to invent it. The new Cold War between the U.S. and Russia is helping Musk realize his dream of wresting the U.S. space launch market from behemoths Boeing and Lockheed Martin, which control it through their United Launch Alliance.