Editorial Board
Mortgages Should Be Easier to Get
Mel Watt, overseer of Fannie Mae and Freddie Mac, has a good plan to keep lending going. 
by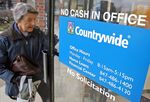 After all the suffering that bad mortgages have visited upon the world, news that the U.S. is loosening lending standards -- as outlined this week by Mel Watt, the newly installed overseer of mortgage giants Fannie Mae and Freddie Mac -- might give reasonable people a queasy sense of deja vu.
Actually, what Watt is proposing makes sense.
Like it or not, government officials such as Watt are going to play the leading role in U.S. mortgage lending for the foreseeable future. Legislation to reform housing finance, proposed by South Dakota Democrat Tim Johnson and Idaho Republican Mike Crapo, probably won't come to a vote this year. The so-called private-label market, in which mortgages are packaged for sale directly to investors, is pretty much dead. That leaves entities such as Fannie and Freddie, which buy mortgages from lenders and pool them into government-guaranteed securities. If you recently got a loan of less than $417,000 ($625,500 in high-priced cities such as New York and Los Angeles), chances are you have Fannie and Freddie to thank.
Problem is, mortgage lenders have tightened their standards even beyond what Fannie and Freddie's now-stringent rules require. As a result, good borrowers can't get loans. Anyone who has recently endured the approval process can attest to lenders' exhaustive, and exhausting, attention to detail. Together with rising interest rates, this caution has reduced the volume of mortgage lending to its slowest pace since 1997.
Why the sudden conservatism? One driver is the fear that Fannie and Freddie will deem the mortgages defective and make the lenders buy them back. Such "put-backs" of loans made during the boom -- many of which were egregiously defective -- have already cost banks billions of dollars. Now the lenders are playing it safe. They want to stay well within Fannie and Freddie's rules, which they say are vague on what can and can't be put back.
Watt's plan is simple: Make the rules clearer and provide assurances to banks -- for example, that they won't face put-backs if the loans perform reasonably well or pass a quality review. The overseer of Fannie and Freddie, known as the Federal Housing Finance Agency, will also cease efforts to shrink their operations, at least until the private market is ready to pick up the slack.
It's unclear how much the changes will boost mortgage lending or the housing market, but there's no need to worry that they'll bring back the crazy lending of the boom years. A return to that era is nowhere in sight, and delinquency rates on loans guaranteed since the crisis have been close to zero. There's also very little risk to taxpayers. Over the past few years, Fannie has roughly doubled the fee it charges to insure mortgage loans. Combined with low default rates, this has been a big driver of the ample profits Fannie has been delivering to the U.S. Treasury.
To be clear, the temporary fix known as the Fannie Mae and Freddie Mac conservatorship is far from ideal. Reforming the U.S. mortgage market is unfinished post-crash business. While the U.S. finds its way to a long-term answer, tweaks like Watt's will have to do.