Zuckerberg and Other Geniuses Can Be Duped
Facebook investors should be glad that Snapchat turned down the company's $3 billion offer.
by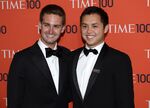 As bubble antiheroes go, they don't get much better than Snapchat Inc. The company seemed to have everything: a must-have technology, legions of youngsters hooked on its messaging service, plenty of buyout feelers. And then, in an instant, the world received undeniable confirmation that it had been duped.

The photographs and videos that the company said would quickly disappear forever after you sent them from your smartphone? You should assume they didn't, especially if you were naked in them. Nothing goes away on the Internet. Everybody knew that already. It was too good to be true. But sometimes people just want to believe, and they get carried away.
Last week, the Federal Trade Commission reached a settlement with Snapchat and made clear that the company's promises of vanishing messages were false. Snapchat, run by a couple of 20-somethings in Southern California, never had much of a business when it came to revenue and other ho-hum things. Turns out, it didn't have much of a product, either. Its central premise was a crock.
Every market craze has its symbols and legends. The Internet bubble that peaked in 2000 gave us the Pets.com sock puppet. Enron Corp. once set up a fake trading room, with real people pretending they were doing trades, to impress a group of Wall Street analysts. Snapchat isn't a public company, but at one time it had at least one well-known suitor that is.
Last year, Snapchat rebuffed a $3 billion offer from Facebook Inc. And from the outside looking in, it sure looks like Facebook got lucky on that one, proving once again that sometimes a company's best deals are the ones it doesn't do. (On the other hand, how would you like to be the guy who wrote this headline: "Snapchat's 23-year-old CEO was smart to turn down a $3 billion offer"?)
Then, in February, when valuations for upstart technology companies were still in full froth, Facebook agreed to buy the text-messaging service WhatsApp Inc. for $19 billion, including $4 billion in cash and the rest in stock. WhatsApp saysit has 500 million users, but its revenue is minimal.
Many sober-minded people wondered how WhatsApp could possibly be worth that much. And the consensus that quickly emerged was that Facebook Chief Executive Officer Mark Zuckerberg was probably entitled to deference. He built Facebook from nothing. He has voting control of the company anyway, so he will do what he wants.
But he is human. If Zuckerberg could be deluded into thinking that Snapchat was worth $3 billion, when its product didn't even do what the company said, it shows he is capable of making mistakes just like the rest of us. Maybe investors shouldn't be so unquestioning the next time Facebook offers billions of dollars for a company without much revenue that most people have never heard of before. That wouldn't be such a bad thing.
This column does not necessarily reflect the opinion of Bloomberg View's editorial board or Bloomberg LP, its owners and investors.