Will Shrinking Barclays Hurt Markets?
The financial system could suffer as Barclays retreats. 
by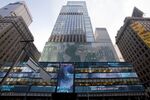 The retreat of one of Europe's largest financial institutions, Barclays Plc, from the business of investment banking will certainly please its regulators and competitors. In the short run, though, it might not be good for the financial system.
When Barclays announced last week that it would cut its workforce by about a quarter and shrink investment banking to less than a third of risk-weighted assets, it joined a growing list of institutions that have given up on ambitions to compete with the "bulge bracket" of the world's largest global banks. European institutions have gone from being front-runners in the expansion of cross-border activities before the financial crisis of 2008 -- accounting for 80 percent of the incremental growth, according to an earlier McKinsey study -- to leading the pullback.
The British bank's move is particularly notable for its contrast with its previous ambitions. This is an institution that, at one stage, looked like one of the winners in the financial crisis (granted, the comparison base is pretty bad). Barclays took over Lehman Brothers Holdings Inc.'s North American operations in 2008 as a means of expanding its geographic and operational footing in investment banking.
British regulators will understandably welcome the change of direction. The bank's reorganization will encourage a better focus on core activities, such as providing consumer banking services in the U.K. It will also reduce the risks that such a large global bank poses to the country's economy. As Sir Mervyn King, the former governor of the Bank of England, famously (and correctly) observed: "Global banks are international in life and national in death."
Competitors, too, have reason to celebrate. Institutions such as Goldman Sachs Group Inc., JPMorgan Chase & Co. and Morgan Stanley will look to capture the market share being vacated by Barclays, and they will be keen to secure the human talent that is likely to become available.
That said, a smaller Barclays will have downsides. The bank played a role in the business of providing liquidity to markets, which involves keeping inventories of securities, standing ready to buy and sell when needed and offering financing to clients. Its exit comes at a time when liquidity is already much scarcer than it was before the financial crisis, making markets more vulnerable to dislocations and dysfunction. Even small changes in sentiment -- such as that caused by the mention last spring of a possible taper of the U.S. Federal Reserve's bond-buying program -- can lead to sudden and outsized market reactions. It is hard to see how a big player can leave without impairing capital markets' ability to mobilize and allocate resources to efficient productive activities.
Beyond that, the expansion of Barclays's largely U.S.-based competitors could reduce the operational flexibility of the U.S. government and the Fed in times of financial crisis, aggravating the "too big to fail" problem to which Fed Chair Janet Yellen has referred several times this year. There are also debates about whether such banks have become too big to manage and too big to regulate.
Fortunately, the problems highlighted by the U.K. bank's downsizing are not necessarily intractable. Central banks can address potential liquidity concerns by changing the way they interact with markets -- for example, by providing financing to nonbanks on the collateral of high-quality securities. The "too big" problem, while a lot trickier, can be mitigated by increasing the resilience of individual institutions and by making the system as a whole more robust.
This column does not necessarily reflect the opinion of Bloomberg View's editorial board or Bloomberg LP, its owners and investors.