Soccer Sexism Is as Bad as Basketball Racism
The head of the U.K. soccer Premier League has been caught off-camera making the kind of sexist remarks that should lead to his dismissal if he doesn't have the good grace to resign. 
by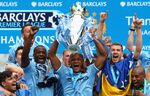 When Los Angeles Clippers owner Donald Sterling was caught making racist comments, he was fined and banned from basketball for life. Now the chief executive of the U.K.'s soccer Premier League, Richard Scudamore, has been caught off-camera making repugnant sexist remarks about women. Unacceptably, it looks as though he may keep his job.
Scudamore likes to mock women in his e-mails, which a former personal assistant passed to the Sunday Mirror newspaper. In his slightly less offensive comments, he told a friend that "female irrationality increases exponentially depending on how many members join your family." Further up the scale of proof that he is unfit for office were a couple of jokes that treat women as sexual playthings. I won't repeat them here.

Rather than resign, Scudamore resorted to the untenable defense that his public and private personas are different, and that his PA was in the wrong to look at his despicable declamations. The emails, he said:
"were received from and sent to my private and confidential email address, which a temporary employee who was with the organization for only a matter of weeks should not have accessed and was under no instruction to do so. Nonetheless I accept the contents are inappropriate and apologize for any offence caused."
Basketball's Sterling, a real-estate billionaire who bought the Clippers in 1981, told a woman in audio that was posted on the website TMZ on April 25 that he didn't want her bringing black people to his games. National Basketball Association Commissioner Adam Silver banned Sterling for life, fined him $2.5 million, and said he would urge the other owners to force Sterling to sell his team.
So what did the U.K.'s governing body for soccer do? The Football Association said it won't charge Scudamore with bringing the game into disrepute, because this was a private matter:
"We note the reported comments of Premier League chief executive Richard Scudamore at the weekend, and his subsequent apology," said FA Chairman Greg Dyke. "This remains a matter for the Premier League to consider. The FA remains wholly committed to promoting diversity and will continue to work on challenging discrimination and developing future women leaders."
It was heartening that fans booed Scudamore as he presented medals to the winning U.K. soccer team, Manchester City, after the league's final game on Sunday. That's further evidence he is the wrong person to be running the Premier League -- which is owned by the country's 20 top clubs and has been campaigning in support of women's soccer -- should any be needed. If Scudamore won't jump, he should be pushed.
This column does not necessarily reflect the opinion of Bloomberg View's editorial board or Bloomberg LP, its owners and investors.