No, I Don't Want to Execute More White People
The death penalty is wrong. Racial bias in its administration isn't the most important reason why.
by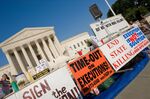 Imprisonment in the U.S. has historically been rife with racial bias. Should we react to that history by trying to reform our criminal-justice system? Or should we abandon that effort as a naive attempt to wish away our deeply ingrained biases, and instead abolish prisons altogether?