Ukraine's Eastern Counterrevolution
Russia's reluctance to recognize farcical secession referendums in Ukraine means Vladimir Putin doesn't plan to invade. Kiev needs to decide what to do about domestic opposition, not foreign threats.
by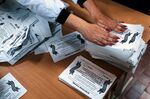 The ridiculous "referendums" held Sunday in two regions of eastern Ukraine are evidence that Russia's Crimean land grab was probably a one-off event. Even Russian President Vladimir Putin, with his well-known ability to stretch and twist facts, couldn't bring himself to recognize the results of the preposterous votes. Moscow's tepid reaction tells Ukrainians it's time to stop fighting a phantom war with Putin and start the healing process if they want to keep their country together.