Expect a Rougher Ride in Markets
Close observers should note some nuances that are likely to become more important in the weeks and months ahead.
by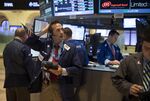 U.S. financial markets have been in a familiar pattern, with stock indexes fluctuating to new highs while yields on 10-year Treasury bonds remain largely range-bound. Yet close observers should note some nuances that are likely to become more important in the weeks and months ahead.
As in previous weeks, two sets of corporate announcements supported stocks last week: earnings that tended to exceed (lowered) consensus expectations and new merger-and-acquisition deals. Central banks also helped meaningfully as both Federal Reserve Chair Janet Yellen and European Central Bank President Mario Draghi reiterated their commitments to bolster economic growth while limiting the risk of damaging deflation. Draghi went even further, signaling that the ECB could boost its stimulus efforts next month.
Yet all was not smooth, contributing to quite a bit of intraweek volatility. Chinese and European data suggested that the global recovery is not as robust as many had hoped. Optimism about the impact of a perceived softening in Russian President Vladimir Putin's position on Ukraine was dashed by disturbing on-the-ground realities. And investors showed little tolerance for any bad news from stocks with markedly high valuations.
Don't expect this market tug of war to subside easily in coming weeks. Over the next few days, new data on U.S. retail sales, housing, inflation and industrial production will provide a fuller picture of the strength of the economic rebound from a weather-depressed first quarter, but they will not tip the balance decisively one way or another. That said, savvy investors will be keeping a close eye on two evolving trends that could well become more significant drivers of market behavior going forward.
First, the Fed is in the midst of a transition from relying on two policy instruments (asset purchases and forward policy guidance) to just one (guidance). Importantly, and as-yet not fully recognized by investors, this is part of a more fundamental evolution in the Fed's approach -- one that, as departing Governor Jeremy Stein put it last week, makes forward guidance "more qualitative as well as less deterministic" and, therefore, "a less precise guide to our future actions."
Expect markets to become more volatile in the weeks and months ahead, as investors internalize to a greater extent the importance of this policy pivot. They should be requiring more compensation for the risk of buying volatile and, especially, harder-to-sell assets.
The Ukrainian situation will also be more important as it becomes more difficult to restore order and ease tensions. Despite its growing willingness to use military force, Kiev is consistently losing its authority in the east and south of the country -- and not so much to Russia as to different local factions, as illustrated by last weekend's self-rule referendums organized by self-proclaimed leaders in Donetsk and Luhansk. The further the situation deteriorates, the harder it will be to implement whatever diplomatic agreements the major powers eventually achieve.
The hope for markets is that the global economy will mitigate high valuations and various destabilizing forces by gaining momentum and reaching escape velocity. Unfortunately, there is as-yet insufficient data to suggest that this will happen anytime soon.
This column does not necessarily reflect the opinion of Bloomberg View's editorial board or Bloomberg LP, its owners and investors.