Eurovision's Winners: Tolerance and a Bearded Star
Look at the popular vote and you'll see that the performance by bearded lady Conchita Wurst at this year's Eurovision Song Contest was truly a victory for tolerance.
by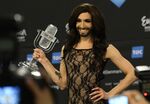 Austrian Tom Neuwirth's stage image in the Eurovision Song Contest, the bearded lady Conchita Wurst, was calculated to shock and cause controversy. It was also a political gamble that paid off throughout Europe.

With her feline grace, outrageous gowns, the eyelashes of a cute baby giraffe and full blue-black beard, Conchita Wurst was no ordinary contestant. She was an ambassador for the gender spectrum. Trans activist Paris Lees explained in the Guardian: "They say trans people reinforce gender roles while simultaneously they try to push us back into neat little 'boy' or 'girl' boxes. Conchita knows no such box -- and she won't let radicals, Russians or right-wingers tell her who she is supposed to be."

At Eurovision, arguably the biggest song contest in the world, Neuwirth faced a daunting and complex competitive landscape. The event is gay- and trans-friendly: Cross-dressers and transsexuals have won it before, though none have been as consistent in their gender fluidity as Conchita. At the same time, the contest's geopolitical inclusiveness has allowed an outsize role for post-Soviet countries, where official intolerance has been on the rise.
Winners are chosen by a combination of official juries from each participating country and audience voting, delivered by phone and text message. As often as not, people and judges vote for -- or against -- a country, rather than a song. This year, the live audience in Copenhagen booed the Russian act, which managed to take seventh place thanks only to votes from friendly ex-Soviet republics. Armenia and Azerbaijan, embroiled in a festering territorial dispute, consistently give each other last place.
Initial indications were not good for Conchita. Russia and its satellite Belarus both filed petitions to stop the Eurovision broadcasts because of her. Even Austrians protested her selection to represent their country, setting up a Facebook group that initially had more members than the artist's own page. Neuwirth the male singer was definitely in the "close but no cigar" category, never quite making it on his country's deathly boring pop music scene.
At the event, Conchita sang her heart out, and the reaction was swift and strong. Armenia, Belarus and conservative Poland, Europe's most religious country, gave her zero points, while the more liberal Netherlands, Sweden and Finland awarded her the maximum. Condemnation came from Russian officials ("Eurovision has shown euro-integrators their euro-perspective: a bearded girl," tweeted Dmitri Rogozin, the deputy prime minister in charge of the arms industry) and the Russian orthodox church("This is another link in the chain of cultural legitimization of vice in the modern world"). Some Russian men shaved off their beards to "prove you're not Conchita."
The popular voting, though, suggested that officialdom might be out of touch with the masses. There was not a single country where a popular vote put Conchita lower than fifth place out of 26 finalists. Only two countries, Ukraine and Montenegro, voted her fifth best. Russian viewers put her in third place. In Orthodox Christian Greece and Armenia, Conchita came in second. Even Poles put her in fourth place.

In other words, the average European pop music fan did not mind Conchita's mercurial sexuality. A bearded girl? Well, why not, it's Europe, a place where lots of different people are thrown together and don't mind it, whatever the success of nationalist parties in upcoming European Parliament election might suggest to the contrary.

After Conchita won the contest, her Facebook page crossed the 500,000-fan threshold. The Austrian hater group remained stuck at less than 37,000 members. Her winning song, "Rise Like a Phoenix," has been viewed more than 1.5 million times on YouTube. Conchita is now a star, who, London's Daily Mail speculates, is "going to rake in 25 million pounds" ($42 million).
Conchita rightly declared her showing a victory for tolerance. The song wasn't so great, as is often the case with Eurovision winners. The political statement, however, was a success both for Neuwirth and for the contest's diverse audience, which generally passed the European values test.
This column does not necessarily reflect the opinion of Bloomberg View's editorial board or Bloomberg LP, its owners and investors.
To contact the author on this story:
Leonid Bershidsky at lbershidsky@bloomberg.net
To contact the editor on this story:
Mark Whitehouse at mwhitehouse1@bloomberg.net
Before it's here, it's on the Bloomberg Terminal.
LEARN MORE