Editorial Board
How Much Is Clean Coal Worth?
We need more Kemper power plants. Just not quite like Kemper.
by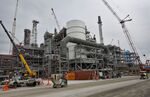 The federal government is touting a new power plant in Mississippi as a historic advance in the fight against climate change. Critics call it an expensive and unworkable boondoggle. The best argument for and against the plant is the same: It's only one power plant.