view
Another Election Day
A total of 66 votes cast for the two-year and four-year cycles so far.
by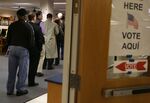 Today is another Election Day in my portion of San Antonio. It's a special election to replace our member of the city council, who resigned for a futile run at the state legislature, attempting to out-Tea Party a Tea Party hero. It didn't go well. Meanwhile, we get someone new.
This is another good demonstration of how difficult voting is in the U.S. We just had the regular primary election a few weeks ago, and we have plenty of electioneering for the run-off later this month. And now this one plopped in, by itself, on an unusual Election Day. The polling place was deserted; the little old ladies there were thrilled to see my daughter and me, as they hadn't had much business. Meanwhile, it's a nonpartisan election, which makes it difficult to even figure out which of the five candidates on the ballot to support. There have been maybe two articles in the local paper.
At any rate, today is the second Election Day in my precinct this year, and the fifth of the two- and four-year cycles. We've had a total of 66 votes cast for those cycles so far. This year, we'll certainly have the run-off elections for the primary, along with the November general election, and perhaps a run-off on this one, and who knows what else. Once again, by world standards, almost no one votes that often.
To contact the author on this story:
Jonathan Bernstein at jbernstein62@bloomberg.net
To contact the editor on this story:
Max Berley at mberley@bloomberg.net
Before it's here, it's on the Bloomberg Terminal.
LEARN MORE