The True Cost of Plane Tickets
Airlines want to be allowed to shunt the tax portion of tickets onto a separate web page altogether, thus making your fare look a whole lot cheaper
by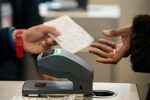 Should an airline be required to tell you the full price of a ticket before you purchase it? Most American fliers believe that they should, and since January 2012 the Department of Transportation has required U.S. airlines to advertise their total fares -- including taxes and fees -- prominently. Two years on, however, the airlines argue that they should be able to advertise only their base fares -- what they actually earn -- if they so choose. As a result two bills are now facing off in Congress: the airline-friendly "Airfare Transparency Act of 2014," introduced in March to overturn the 2012 rule, and its testy, consumer-friendly rejoinder, the "Real Transparency in Airfares Act," introduced on May 6, to enshrine the DOT rule as law.
The debate raises a simple but serious question: What would a return to a world where airlines don't have to make clear how much they're ultimately going to charge you look like? As outlined in the Airfare Transparency Act, airlines would be allowed to display their base fares on online travel sites without having to include any tax or fee information on the same page. They'd merely have to reveal those charges via "a link or popup" that was "easily accessible and viewable by the consumer."
Arguably, consumers should be capable of following those links, hauling out their calculators, and adding up the full cost of a ticket on their own. Indeed, the airlines argue -- via Airlines for America, their trade association -- that doing so would actually be in travelers' interest. "The government is playing a game of hide and seek by burying government taxes in the cost of a ticket," said the trade association's president, Nicholas Calio, in an April 30 press release. "It's adding insult to injury for airline customers already paying more than their fair share to Uncle Sam." The airlines insist this isn't about disguising the true cost of trips, it's about making sure that travelers "can see what part of their ticket goes to air travel and what part goes to Washington," according to Airlines for America.
Of course, airlines know full well that nothing prevents them from disclosing that information right now. Indeed, the 2012 Department of Transportation rule requiring full transparency in pricing explicitly allowed the display of base fares and taxes so long as they're "less prominent than the total price." In other words, an airline could choose today to display a total price with all of the taxes broken out in a smaller font, and placed next to it on a webpage. Instead airlines want to be allowed to shunt the tax total onto a separate webpage altogether, thus making your ticket look a whole lot cheaper.
Needless to say, that's hardly an effort at transparency. Unbelievably, the airlines' bill was passed on a voice vote by the House Transportation and Infrastructure Committee on April 9. At the time, expectations were high that the bill was on a fast track to become law. But since then a broad coalition of travel agents and passenger rights groups have come out in opposition to the bill. Meanwhile, Senator Robert Menendez -- a longtime advocate for transparent airfares -- introduced the Real Transparency in Airfares Act. In addition to codifying the 2012 DOT rule, it would impose fines as high as $55,000 per day on airlines that violate it.
That's a balanced response to a shameless effort by the airlines to do away with a reasonable consumer protection measure. Congress shouldn't hesitate to send the airlines a blunt, pro-consumer message, and pass it.
This column does not necessarily reflect the opinion of Bloomberg View's editorial board or Bloomberg LP, its owners and investors.