Apple's Fashion Statement
The acquisition of Beats Electronics puts Apple squarely in the fashion world. In financial or technological terms, the deal makes no sense at all, but it gives Apple a charisma infusion.
by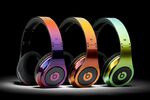 There are no valid technological, financial or market-share motivations for Apple's planned acquisition of Beats Electronics. With it, Apple chief executive Tim Cook is firmly planting his company in the world of fashion, where form matters more than function and Beats' greatest asset is its cool image.
The cons are there for all to see.
Beats' streaming music service has no technological edge over rivals such as Spotify, Deezer, Google Play Music or Rdio. It offers more personalized curation and may be more useful to people who don't really know what kind of music would fit their mood or even what kind they actually like, but that's not much of a competitive advantage, either: People pride themselves on the certainty of their music tastes. Beats Music is a latecomer to the market, available since January in the U.S. only, while its main competitors have expanded to more than 50 countries each.
There is nothing to Beats Music that Apple couldn't build in-house: A full on-demand streaming service would be only a tiny step from Apple's iTunes Radio. The Cupertino company acquired all the necessary engineering talent to create a Spotify competitor back in 2009, when it bought Lala for a mere $80 million. At the time, Lala led the field. True, some of the company's engineers soon left to create a startup with Lala's founder Bill Nguyen, but they were picked up by Apple again when the venture failed.
About $130 billion of Apple's famous $150 billion cash pile is overseas. If the company wanted to corner the streaming audio market, it would have bought U.K.-based Spotify Limited, preempting its rumored initial public offering. That would have cost more, but Spotify is the market leader. Paris-based Deezer could have been another, much cheaper target, and one with strong synergies: Deezer is not yet available in the U.S., and Apple could give it a boost there.
Beats is huge in the relatively small $1.8 billion market for headphones: the company controls 27 percent of it overall, and 57 percent of the premium segment priced at $99 and above. Most of the ubiquitous Beats headphones' appeal, however, is hype. The estimated production cost can be as low as $14, and audio experts are unable to find any technological edge to the product. The headphones are great for playing bass-heavy music, but that's essentially just an equalizer setting.
The Beats audio technology did little for Taiwanese smartphone maker HTC, which bought a 50.1 percent stake in it in 2011 for $300 million. It sold back the last of the shares toward the end of 2013, making $115 million on the transaction. It didn't, however, stop HTC from sinking into irrelevance. In 2011, it sold one of every 10 smartphones in the world; now, it has a 2 percent market share.
Apple is also losing ground in smartphones, with its share dropping to 15.3 percent in 2013 from 18.7 percent the previous year. Employing Beats technology in iPhones will be ignored as it was in HTC's efforts.
Apple's awful earbuds, of course, are one of the company's most incomprehensible mysteries. My anatomy, for one, is not suited to them at all: The useless things keep falling out when I run. The sound, too, is tinny and devoid of volume - something we of the older generation are used to but our pampered kids are not. Not surprisingly, Beats headphones are one of the few non-Apple devices in my household: My 11-year-old stepdaughter uses them with her iPhone and her Mac. The Apple - Beats combination is a natural one for many teens, and both companies have embraced it. Beats makes earbuds to go with the gold iPhone 5S and Apple's retail arm sells a wide range of Beats models.
We're already talking fashion here, though. The Beats headphones, and the streaming service's app, are hip, well-designed accessories. The headsets are almost as iconic as the iPhone itself. The companies' products look good together.
Has that ever been enough to justify a takeover? Not in Apple's world. Rather than buy companies that have made accessories for its products, it has competed with them, producing, for example, its own iPhone cases. But that was then and this is now: Former Burberry chief executive Angela Ahrendts is joining Apple as its new retail czar with a $68 million golden hello (only slightly less than Steve Jobs paid for Lala). And Beats founders Dr. Dre and Jimmy Iovine are billions of dollars richer for having created a fashionable accessory. The $3.2 billion Apple is paying is almost twice the value of the global headphone market.
"It's not just what it looks like and feels like. Design is how it works," Steve Jobs famously said. His successor Tim Cook is increasingly focused on look and feel, in the absence of new breakthrough products. The fashion path is a promising one because of Apple's design credentials, but the company doesn't really need acquisitions to take it. Perhaps the Beats purchase should be viewed as a charisma infusion: Apple no longer has Jobs, but now it's got Dr. Dre.
This column does not necessarily reflect the opinion of Bloomberg View's editorial board or Bloomberg LP, its owners and investors.