Young Guns Don't Win Super Bowls
This year, 98 players declared early for a total of 102 underclassmen in the draft, up from 73 last year.
by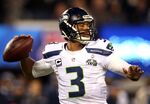 The NFL Draft is upon us, and this year's class is proving to be one of the most controversial in recent memory. Debate rages over the many intriguing quarterback prospects, centered around the cause of many a bar argument: Johnny Manziel of Texas A&M. Depending on whom you ask, Manziel is either a top-five overall pick or not even in the top-five at his position, given the availability of more traditional quarterbacks in Teddy Bridgewater and Blake Bortles, both of whom could be early first-round picks as well. But teams need to temper their expectations of prospects who declared early for the draft. If history tells us anything, underclassmen can have success, but do not win Super Bowls.
Manziel and Bortles declared early, while Bridgewater is an underclassman who already graduated. You can hardly blame them; the new rookie wage scale system puts pressure on college players to enter the pros as soon as possible in order to become eligible for free agency at a younger age. When drafted, rookies must sign a four-year contract, with a team option for a fifth year for first-round picks. The team can franchise a player in the sixth year. Rookies are thus locked into contracts with lower salaries under the rookie salary cap for four or five years, after which they can finally negotiate for their market value as unrestricted free agents. A player who redshirts his freshman year and enters the draft after his senior year would likely become a free agent when he's 29. In a sport where youth comes at a premium and your health next season isn't guaranteed, it makes sense for talented prospects to declare early.
As such, there has been a steady rise in college players declaring for the draft early since the new rookie wage scale was ratified in the Collective Bargaining Agreement in 2011. This year, 98 players declared early for a total of 102 underclassmen in the draft, up from 73 last year. And while teams may benefit by keeping rookie salaries down and minimizing holdouts, the system can backfire when it comes to performance on the field. Many underclassmen simply aren't ready for the pros, and scouts and college coaches worry that the NFL is becoming too much like the NBA, which only requires that a player be at least 19 years old to become eligible for the draft.
First-round picks are particularly susceptible to their own unpreparedness, as they're often expected to take the field and perform right away. The pressure is especially high on quarterbacks, and it shows. For every Ben Roethlisberger and Robert Griffin III -- first-round picks who declared early -- there's also a Vince Young, JaMarcus Russell, Josh Freeman and Mark Sanchez. According to Bloomberg Sports, in the history of the Super Bowl, only two teams have won with starting quarterbacks who entered the league just three years after graduating high school: the Baltimore Ravens with Trent Dilfer and the Green Bay Packers with Aaron Rodgers. Remember that while Rodgers was drafted in the first round as a junior, he also spent three years sitting on the bench as a backup to Brett Favre, and Dilfer won his championship well into a journeyman career. (Drew Bledsoe, a first-rounder in 1993 after his junior season at Washington State, won a ring for being on the roster of the 2001 New England Patriots; but of course the starter was Tom Brady, a sixth-round pick who played all four years at Michigan.)
There's something to be said for the developmental value of college experience and the lack of maturity, football and otherwise, that many underclassmen display when entering the NFL. Manziel, Bridgewater and Bortles each have obvious talent as well as glaring weaknesses. For the Houston Texans and the Cleveland Browns, it might be worth it to gamble on a young quarterbacks, as long as they understand how unlikely it is to give the ultimate payoff.
This column does not necessarily reflect the opinion of Bloomberg View's editorial board or Bloomberg LP, its owners and investors.