Would You Pay $3.87 Million for a Tesla?
Each of the cars Tesla Motors delivered in the first quarter is valued by Mr Market at $3.87 million. Two big things need to go right to justify the company's market capitalization.
by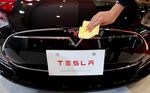 Tesla Motors Inc. has a market capitalization of about $25 billion. In the first quarter, it delivered 6,457 cars. Put simplistically -- very simplistically -- Mr. Market is valuing each of those cars at $3.87 million.
Here's a chart comparing Tesla's market value with its revenue: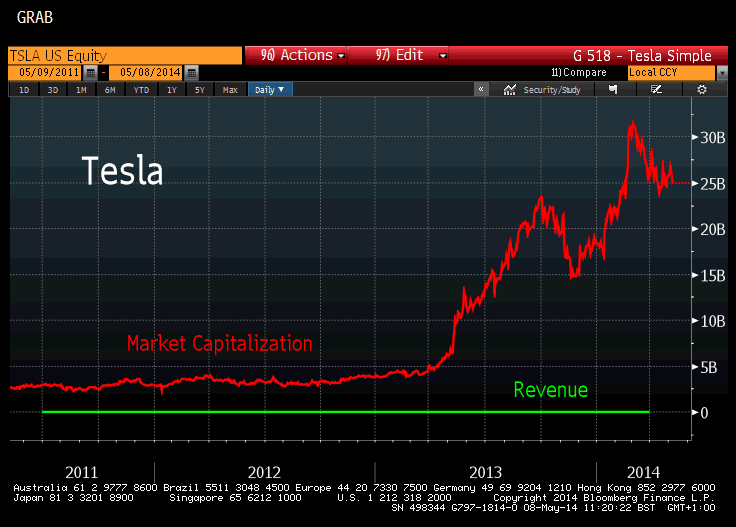 Admittedly, it isn't a very good chart, because revenue is so dwarfed by market cap that it looks like the companymakes no sales whatsoever, which is both unfair and untrue. So here's a second chart with separate scales for each line item: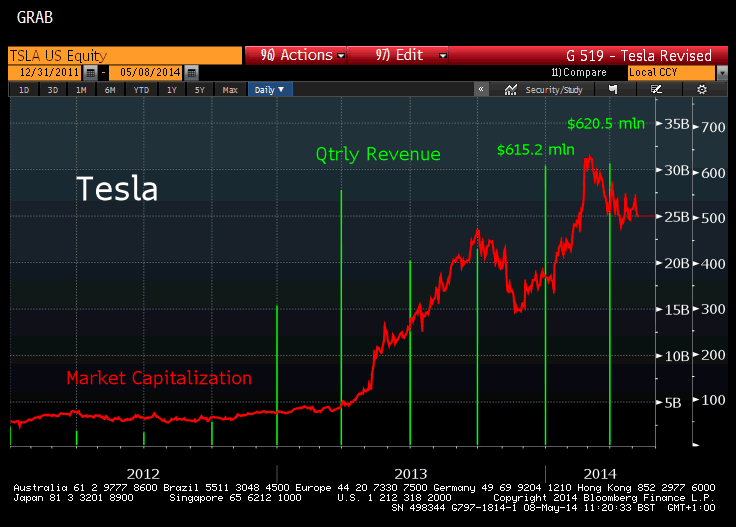 You might still ask how a company with quarterly revenue of $620.5 million commands a $25 billion market value, but we'll let that pass for now. By way of comparison, Ford has a market cap of about $60 billion and delivered 580,260 vehicles in North America in the first quarter, which works out to $103,401 per car.
Before Elon Musk's PR juggernaut launches into action to crush my naive analysis, let me just say that I find it amazing (and heartening) that Tesla is in business at all. Surviving as an independent car manufacturer in the current environment -- without the deep pockets, parts bins and available-to-borrow platforms of a major carmaker as your parent -- is nigh on impossible. Just look at the troubles that the venerable brand of Aston Martin is having. Building the world's only all-electric automaker is an admirable achievement.
It would seem that two things have to go incredibly right in the coming years for Tesla's stratospheric value to be justified.
The first is government subsidies. Persuading the public to kick the habit of the internal-combustion engine won't happen unless governments decide to bribe drivers into electric cars, and that will need to go beyond tinkering with trade-in rebates, tax incentives and special parking privileges.Better Place, the venture that rolled out its first 100 electric cars in Israel in January 2012, and filed for bankruptcy in May 2013, had the support of Israeli President Shimon Peres. That wasn't enough to save it.
"After a year's commercial operation, it was clear to us that despite many satisfied customers, the wider public take-up would not be sufficient and that the support from the car producers was not forthcoming," Dan Cohen, Better Place's third chief executive officer in a year, said at the time.
The second bet Tesla investors need to get right is that China decides to embrace the electric car. If -- and it's a very big if -- the growing middle class there can be persuaded that its first ride should be powered by batteries rather than gasoline, the electric-car industry may be able to flourish and grow in relatively virgin territory, without the legacy issues that act as speed bumps in the world's most developed car markets.
You can't look at the chart showing how Tesla's market value has tripled in the past year without wondering whether investors think they're buying shares in Stark Industries, the fictitious company that belongs to Tony Stark in the movie ``Iron Man.'' For the sake of the environment, I hope Musk can pull it off.
This column does not necessarily reflect the opinion of Bloomberg View's editorial board or Bloomberg LP, its owners and investors.