Tracking Hedge Funds Through the Weeds: Ritholtz Chart
The problems with tracking hedge fund performance.
by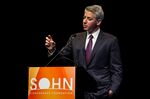 Yesterday's discussion about the Sohn Conference led to a few interesting e-mails discussing fees and performance (this is a favorite subject of ours: see this and this) and several readers asked to see a chart of specific measures of performance.
A caveat is in order: Hedge funds don't have an official reporting requirement. They aren't required, as a group, to report their returns the way mutual funds must. Hence, we don't have an all-encompassing metric tracking their performance on relative, absolute or risk-adjusted bases.
Even worse, the reporting that does exist has a variety of problems that lead to upside bias. The performance is based on a self-selected set of data, it's self-reported and there are issues with survivorship bias.
There are several major tracking indices, such as the Credit Suisse Hedge Fund Index and the Barclay Hedge Fund Index, along with other measures to track performance.
Take your pick of indexes -- the one Jim Bianco used was the HFR Equity Hedge Fund Index, via Credit Suisse.
This column does not necessarily reflect the opinion of Bloomberg View's editorial board or Bloomberg LP, its owners and investors.