Editorial Board
The ECB Can, and Should, Ease Monetary Policy
The ECB should acknowledge the danger of deflation and stop acting as though its hands are tied. 
by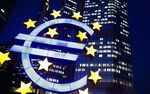 In recent months, Europe's economies have begun a tepid revival. It's the adjective, not the noun, that should guide the European Central Bank's next move on monetary policy.
The bank's governing council, which meets today, faces mixed signals. Output in the euro area increased by just 0.5 percent last year, and it is expected to rise only 1.2 percent in 2014. That's slow -- but a slow recovery is better than none. Business confidence slipped in April, but it's higher than it was a few months ago, and that's helped to push the euro close to its highest level against the dollar since 2011.
What's troubling about that is this appreciation amounts to a tightening of monetary conditions that were too tight to begin with. Inflation in the euro area has lately been far below the ECB's goal of "less than but close to 2 percent." To hit its inflation target, Europe still needs monetary stimulus -- not monetary tightening.
Inflation in the euro area is expected to be 0.7 percent this year and 1.1 percent next. With numbers so low, the risk of outright deflation is real. If prices start falling, the euro area could slide back into crisis, because debts would become heavier in inflation-adjusted terms, threatening both the financial system and the solvency of some governments.
None of this is new. The ECB is well aware of the case in support of further monetary stimulus but sees its options as limited. Its interest rates are already very low, and unconventional measures such as Federal Reserve-style quantitative easing face legal and political obstacles.
That's all true. Still, ECB President Mario Draghi has room to maneuver and should use it.
The central bank's main policy rate, currently 0.25 percent, can be cut to zero. And instead of paying no interest to banks that have deposits at the ECB, it could start charging them (that is, applying a negative interest rate). The Organization for Economic Cooperation and Development advocates both. With a little ingenuity, Fed-style QE could be made to pass muster from a legal point of view. With no ingenuity at all, the ECB would be within its rights to expand its balance sheet, push euros into the financial markets, and apply downward pressure to the euro's exchange rate by buying U.S. securities (as opposed to the debts of its member governments).
This would be foreign-exchange intervention for QE purposes -- not exactly orthodox, but not illegal, either. Harvard University economist Jeffrey Frankel first advocated this move a few months ago. This week, Ashoka Mody, until recently a senior official at the International Monetary Fund, backed the idea and highlighted the dangers of failing to act.
The ECB should acknowledge the danger of deflation and stop acting as though its hands are tied. It can apply monetary stimulus if it chooses to. It should have done so already.

--Editors: Clive Crook, Michael Newman.
To contact the author on this story:
The Editors
To contact the editor on this story:
David Shipley at davidshipley@bloomberg.net
Before it's here, it's on the Bloomberg Terminal.
LEARN MORE