Republicans Stumble on Flawed Obamacare `Facts'
A poorly constructed Republican-commissioned survey on health care backfires.
by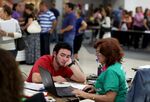 The question of whether politicians believe their own propaganda is always fascinating. For several years, we have witnessed an alarming trend: Republican politicians, pundits and other party insiders getting trapped inside a closed conservative information feedback loop (I think the phrase is Jonathan Chait's) in which they lose track of the difference between their rhetoric and the truth.