Fiat Chrysler's Five-Year Road to Ruin
 A day-long onslaught of information and projections turned out to be an reliable way to maintain the illusion that one of the most marginal of automakers is a viable player in the brutally competitive global marketplace.
by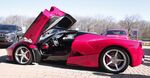 Fiat Chrysler Automobile gave its latest Five Year Plan journalists and investors on Monday in a presentation that, according to the tweets of exhausted attendees, lasted more than 11 hours. Having attended the 2009 version of Chrysler's quintennial Powerpoint deathmarch, emerging more dazed by the ordeal than enlightened, I was a little surprised to see another Ironman Marathon rolled out for analysts.