'Check Your Privilege' Means 'Shut Your Mouth'
When college students ask you to "check your privilege," they're actually dismissing your opinions based on your identity.
by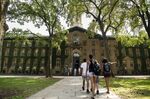 We've all known forever that Princeton University is a place of many privileges. It has recently gotten a new one: Starting an argument from there, filled with conservative sentiments and anecdotes, is now a surefire way to command the attention of the Internet.