Why Officials Don't Tell the Media Everything
Why are government officials reluctant to engage with and respond to an inquisitive media?
by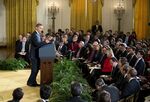 The White House Correspondents' Association dinner, which I attended last Saturday night, is an astonishing spectacle -- a unique combination of journalists, government officials and celebrities. Amid the laughter and the conviviality, however, there is an uneasy undercurrent: Many journalists are disturbed that outside of an annual dinner, they cannot get a lot of access to those same officials.