Trade of the Day: Buy Yellen's $45.62 Playbook
The Trade of the Day is to buy Janet Yellen's 1986 book "Efficiency Wage Models of the Labor Market,"
by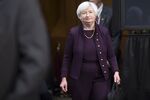 Traumatized by Treasuries? Damaged by the dollar? Befuddled by the Fed? Salvation may be just an Amazon click away. In 1986, Cambridge University Press published the snappily titled"Efficiency Wage Models of the Labor Market."The editors? Janet Yellen and her husband, George Akerlof, the Koshland Professor of Economics at the University of California, Berkeley.
Here's what Amazon's web site has to say about the $45.62 paperback:
"One of the more troubling aspects of the ferment in macroeconomics that followed the demise of the Keynesian dominance in the late 1960s has been the inability of many of the new ideas to account for unemployment. Equilibrium in most economic models occurs with supply equal to demand: if this equality holds in the labor market, there is no involuntary unemployment."

A November 2002 speech by Ben Bernanke titled, "Deflation: Making Sure `It' Doesn't Happen Here" turned out to be a pretty good playbook for the Federal Reserve's moves after he became the central bank's chairman. So the Trade of the Day is buy "Efficiency Wage Models of the Labor Market."

This column does not necessarily reflect the opinion of Bloomberg View's editorial board or Bloomberg LP, its owners and investors.