Rove Crashes the Tea Party in North Carolina
There was a rumble in North Carolina among the factions of the Republican party on Tuesday. The establishment won
by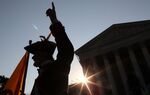 There was a rumble in North Carolina among the factions of the Republican party on Tuesday. The establishment won.
Speaker of the North Carolina House Thom Tillis beat back conservative challengers Tuesday to win with more than the 40 percent he needed to avoid a runoff. Instead of having to direct his attention at fellow Republicans into July, Tillis now gets to train his energy on defeating incumbent Democrat Senator Kay Hagan, whose defeat is part of Republican plans to net six seats and take back the Senate in 2014.
It's never good to draw too much meaning from a primary on a slow day, yet this decisive win by Tillis sure looks like one for the establishment, which has been trying for years to get the party back from the Tea Party. Call it fear of Ken Buck in Colorado (scary ideas about women), Christine O'Donnell in Delaware ("I'm not a witch") and Richard Mourdock in Indiana who, victorious in low-turnout primaries, have won only to go onto embarrassing general-election defeats.
It took a concerted effort and a couple of sad experiences to get here. Together the Chamber of Commerce and Karl Rove's American Crossroads poured $10 milion into Tillis, a pre-Tea Party type of conservative. Yes, he had the support of National Right to Life, but he wasn't prone to make quotable crackpot statements about women. Tillis doesn't consider compromise a dirty word. He knew how to cut a deal in the statehouse. He's unlikely to pull a Ted Cruz and shut the government down, at least if the leadership doesn't want it to be shut down.
That deep sigh you hear is Rove relaxing, knowing he doesn't have a Missouri on his hands, where in the last election one of the weakest Senate incumbents, Claire McCaskill, went on to save her seat because Todd Akin threw it away with rants about rape and abortion.

The North Carolina race drew national political figures into the fray. Duking it out were Jeb Bush, Mitt Romney, Senate Minority Leader Mitch McConnell and Rove for Tillis, against SenatorsRand Paul (who campaigned in Charlotte on Monday) and Mike Lee for physician Greg Brannon, who said that food stamps enslave the poor and sees no need for public schools. And against both was social conservative, Fox TV host and former presidential candidate Mike Huckabee supporting a minister, Mark Harris, out of the Christian Right .

The Tea Party is showing signs of early aging, with some of the initial fervor and idealism spent and its leaders accused of self-dealing in a way that would make a union boss blush. A Washington Post investigation found Tea Party group executives putting a tiny piece of the money they raise from small donors to helping candidates with most going to salaries, expenses and more fund-raising.
Tillis was helped in looking electable by the contrast to the ultraconservatives he was running against. To moderate Republicans and independents, he might not be as palatable as the national party thinks. As he was winning Tuesday night, the Democratic National Committee was circulating a video in which Tillis is speaking at what looks like a town hall meeting expressing the hope that he can divide and conquer those on public assistance. Grainy and reminiscent of Romney's 47 percent tape, Tillis says he respects a woman with cerebral palsy getting help but he hopes she will join him in looking down on those less deserving than herself.

Seeing how he handles that will help Rove and the Chamber know if they got what they paid for.
This column does not necessarily reflect the opinion of Bloomberg View's editorial board or Bloomberg LP, its owners and investors.