European Bonds Are Priced for Perfection

Mark Gilbert is a Bloomberg Gadfly columnist covering asset management. He previously was a Bloomberg View columnist, and prior to that the London bureau chief for Bloomberg News. He is the author of "Complicit: How Greed and Collusion Made the Credit Crisis Unstoppable."
Read More.
Before they lay themselves down to sleep, the borrowing chiefs of the euro region should drop to their knees and pray to Mario Draghitheir bonds to keep.
Consider the magnitude of the yield moves since July 26, 2012, when European Central Bank President Draghi pledged to do "whatever it takes" to preserve the euro. Portugal's 10-year borrowing cost has dropped to 3.56 percent from more than 11.3 percent, Italy's funding cost has more than halved, to 3 percent, while Spain now pays 2.97 percent, down from more than 7 percent: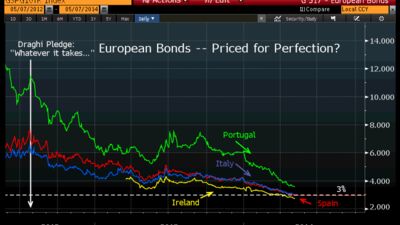 Sometimes in the world of high finance it's helpful to describe situations as plainly as possible to reveal underlying truths. Imagine telling your savvy grandmother that you plan to lend her life savings to a borrower called Spain. She'll get her money back after 10 years.
You might add that the European Union forecasts that this borrower's budget deficit will swell to 6.1 percent of gross domestic product next year. More than a quarter of its population is unemployed. It is already in hock to the tune of $1.5 trillion, meaning its debts are about 109 percent of its GDP. Oh, and she'll make a profit of less than 3 percent in interest on the loan.
You might as well tell her you've changed your name to Jack, and you've swapped her hard-saved euros for some magic beans.

Yes, the European economy is improving. Yes, the ECB says it stands poised to buy government bonds (although the German courts might still have something to say about that). But the plain truth is that European bonds are priced for perfection. It follows that anything short of a perfect backdrop -- including a fumble-free Federal Reserve as it tries to unwind quantitative easing -- is likely to prompt a bout of buyers' regret among investors who've chased yields in Europe to record lows.
This column does not necessarily reflect the opinion of Bloomberg View's editorial board or Bloomberg LP, its owners and investors.
To contact the author on this story:
Mark Gilbert at magilbert@bloomberg.net
To contact the editor on this story:
James Greiff at jgreiff@bloomberg.net