Did Putin Just Blink?
Does Putin's new position on elections in Ukraine mean he wants a deal? Let's hope.
by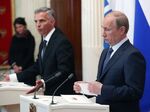 Russian President Vladimir Putin has made an art of keeping his detractors off-balance from the start of the crisis in Ukraine. Today, he had even pro-Russian separatists lost for words when he called on them to postpone a May 11 referendum on how to federalize (read: break up) the country.