Can Stanford Possibly Change Minds on Coal?
Divesting the university endowment from coal companies is self-righteous, obnoxious and maybe even hypocritical. It might also help change the national conversation about climate change.
by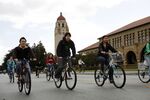 There are so many reasons to sneer at Stanford University's decision to stop investing in coal companies. It's not enough money to matter. It's self-righteous. It's hypocritical (don't these people drive cars?). It's too easy (what does it cost them?). It's elitist. Check your privilege!
Those things are all true. This too is true: The U.S. remains a country where it's politically acceptable for a sitting senator to claim, as Republican Deb Fischer of Nebraska did yesterday at a Bloomberg Government breakfast, that there's no scientific consensus on climate change. Denying climate change is socially acceptable as well: Just 57 percent of Americans say the planet is warming because of human activity -- a decrease from a decade ago.
If those norms don't change, U.S. policy won't either. A carbon tax will remain unreachable; regulations limiting carbon emissions from coal plants will be branded as a war on coal, as if a particular mixture of inanimate compounds had feelings and those feelings mattered. The country will continue to release 69 percent more carbon, per person, than the average for industrialized nations. And the U.S. will continue to advocate for international climate agreements from a position of weakness.
How do you change what's considered socially and politically acceptable? One possibility is through symbolic displays of self-righteous behavior, by people or institutions that others look up to. What if Stanford goads other prestigious schools into doing the same? What if the students at those schools talk to their parents, and their friends back home, and eventually their co-workers?
A reasonable observer may still ask, where is this supposed to lead us? The notion that the U.S. would stop burning coal in the foreseeable future is insane. There are too many coal plants and not enough alternatives. But while we can't stop using coal right away, we can change the way we use it.
That means more carbon-capturing plants like the one in Kemper, Mississippi. It means conveying to other utility companies that finding money for capture and sequestration technology is becoming non-optional. It means not just putting a price on carbon, but also putting a price on carbon-deaf statements by politicians who want to remain credible. It means changing what's acceptable.
Will a campaign by a bunch of students in California accomplish any of this? After all, "divestment is largely a symbolic act because most of the divestments are so small in size that they have no effect per se on the price of the stock."
That's what one research analyst told the Los Angeles Times in 1986, when students at the University of California pushed for divesting from companies that did business in South Africa. And he was entirely correct, right up until he wasn't.
This column does not necessarily reflect the opinion of Bloomberg View's editorial board or Bloomberg LP, its owners and investors.