Big Food's Big Loss on Genetic Labels
The food industry should acknowledge consumers' growing interest in understanding what they eat and get behind a national standard for labeling genetically modified ingredients.
by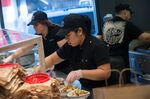 Tiny Vermont is on the verge of giving Big Food a huge headache.
Late last month, the Vermont legislature passed a law requiring the labeling of food containing genetically modified ingredients. The governor has promised to sign the bill this week.
Vermont, of course, doesn't matter much on its own. With a little more than 600,000 people, the state accounts for about 0.2 percent of the U.S. population. The real concern is that other states -- about a quarter of which have some kind of GM-labeling legislation or ballot initiative in the works -- may follow Vermont's lead. This could prove intolerable to the food industry.
Here's why: Different product labels would be needed for states that require labeling and for those that don't. States that require labels might also require certain terms or specify their placement. Such a legal patchwork would be cumbersome, not to mention costly, for food companies and in turn consumers.
At least some of those pressing for state labeling laws wouldn't mind that. Many of them are aligned with and financed by organic-food producers, who stand to benefit if some consumers shun GM products.
Big Food is so worried about labeling mandates, the industry spent $45 million in 2012 to defeat a labeling initiative in California, the country's largest agricultural-goods producer. Anti-labeling groups again spent heavily last year to defeat a similar ballot referendum in Washington state. Vermont is already allocating money to a litigation fund in anticipation of a legal challenge from food makers.
Vermont's law, which would take effect in 2016, is the first of its kind in that it doesn't depend on legislation in other states. Connecticut adopted a labeling measure last year, though it has a catch: It only kicks in if contiguous states enact similar laws. So far, none has done so.
Almost as troubling for the industry are moves against GM products by food retailers. Wal-Mart Stores Inc., the U.S.'s biggest grocer, has flirted with the idea of labeling requirements, while Whole Foods Markets Inc. has pledged to put them into effect by 2018. Chipotle Mexican Grill Inc. has said it will stop using GM products, and General Mills Inc. has said it will no longer use GM ingredients in Cheerios.
Something like 70 percent of all food produced in the U.S. contains GM ingredients. The percentage is even higher for corn, which is used for everything from sweetening soft drinks to feeding beef cattle.
The Food and Drug Administration, which oversees labeling regulations, has stood on the sidelines for years. The agency only requires labeling when it determines that a food is substantively different, and so far the evidence is that GM foods are indistinguishable from other foods.
Of course, this dispute probably could be ended if President Barack Obama followed through on a 2007 campaign pledge to order labeling. Or if the food industry acknowledged the growing interest consumers have in understanding what they consume. An overwhelming majority of Americans tell pollsters they want GM labeling.
It is understandable that the industry resists labeling because of the success GM foes have had in stigmatizing both GM products and science in general. Protests and ad campaigns that feature apocalyptic images and inflammatory language almost guarantee that some consumers would avoid foods bearing GM labels. Never mind that almost everything in the modern diet has been altered in some way, either through hybridization -- in which all of a plant or animal's genetic matter is intermingled with another's -- or exposure to toxins and agents such as radiation.
The food makers risk losing this fight if other states follow Vermont's lead, which seems inevitable at this point. New York's legislature moved closer to voting on a labeling bill yesterday.
So what should the industry do? First, get behind a national labeling standard; the worst thing for the industry is the hodgepodge now taking shape. Then reconsider the spending. The industry has pumped many millions of dollars into labeling battles and seems destined to spend much more. Why not do something useful with the money instead, like educating consumers on the improvements science has made to our food supply, or helping to ward off hunger around the world? Those are battles worth winning.
This column does not necessarily reflect the opinion of Bloomberg View's editorial board or Bloomberg LP, its owners and investors.