Alibaba, Based in China, Imitating Japan
by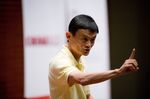 Alibaba Group Holding Ltd., the Chinese e-commerce giant, is offering the investment world a novel experience: one-stop shopping.
By now, we've heard all the superlatives about the "everything company." Jack Ma's hundreds of millions of subscribers will swell as the Alibaba founder enters just about every business imaginable. In a quirky, yet revealing exercise, Quartz.com made a listof all the Western names you'd have to combine to get something like the Alibaba Ma is taking public in a New York initial public offering. They include, of course, Amazon.com Inc., eBay Inc. and PayPal, but also Google Maps, Spotify Ltd., WhatsApp Inc., Dropbox Inc., ING Direct, Uber Technologies Inc. and Hulu LLC. Alibaba also is getting into travel, education, business lending and a bewildering array of unrelated markets.
Ma's plan it to create a company so diversified and comprehensive that a consumer won't have to go anywhere else. Want to buy just about anything? We're the place. Looking for the latest news, movies or music? Got that, too. Need to tweet something or keep up with friends and family on social media? Oh yes. The same could be true for investors; with one stock, they can gain exposure to a multitude of sectors.
But is Ma taking on more than any one management team can handle? In other words, is he making that most Japanese of corporate mistakes: trying to do too many things and ending up doing nothing particularly well?
Japan lacks a direct Alibaba comparison. Its tech giants, such as Rakuten Inc., are less diversified and so far lack Ma's sweeping ambitions. Still, Japan's iconic corporations offer multiple cautionary tales for Ma as he turns Alibaba into a corporate smorgasbord the likes of which the tech world has never seen.
Look no further thanSony Corp., a proud name that rose from the ashes of World War II. Not content with shaking up the electronics world with Walkman music devices and Trinitron televisions, Sony expanded into everything from banking and insurance to medical-related industries. Fujitsu Ltd., Hitachi Ltd., NEC Corp., Sharp Corp. and others got burned expanding time and time again beyond their central businesses. Honda Motor Co. surely rues the day it veered into the aviation business. The same goes for Panasonic Corp.'s 1990 acquisition of Universal Studios. And what of Tokyo Electric Power Co. expansion into Internet services on the dubious assumption that it could offer connectivity via its power lines?
What all these companies had in common was a mindset that exalted size at the expense of management's capacity to control and excel. History may show Ma's ongoing shopping spree makes sense. But it could just as easily reflect a corporate magnate whose grasp exceed his ability to achieve synergies between too many moving and ill-fitting parts.
No doubt, Ma's journey from English teacher to Internet titan is astounding. The company he started in a Hangzhou, China, apartment 15 years ago is now the toast of Wall Street, the pride of China and a name that puts him in the same class as Jeff Bezos and Mark Zuckerberg, maybe even beyond. And by riding the emergence of China's middle class, Ma's success offers many lessons, both economic lessons and strategic.
What remains unclear, though, is whether gobbling up more and more businesses and adding ever-more layers of options for customers is a viable business model. Alibaba, remember, isn't reinventing the technological wheel, so much as crafting a cacophonous collage of Internet functionality.
If things go according to the aspirations of this billionaire, posterity will include Jack Ma in the pantheon of great business leaders along with Henry Ford, John D. Rockefeller and Bill Gates. Thinking big and talking even bigger are hallmarks of mega-success, of course. Hubris isn't. With his acquisitions binge, Ma may be trafficking in the latter. As Japan shows, it's better to excel at a few things than to be mediocre at many.
This column does not necessarily reflect the opinion of Bloomberg View's editorial board or Bloomberg LP, its owners and investors.
(William Pesek is a Bloomberg View columnist. Follow him on Twitter at @williampesek.)
To contact the author on this story:
Willie Pesek
To contact the editor on this story:
James Greiff at jgreiff@bloomberg.net
Before it's here, it's on the Bloomberg Terminal.
LEARN MORE