Why North Carolina's Republican Primary Matters
Results could determine the majority in the Senate.
by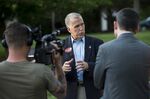 A series of important primary elections begins today, most notably in North Carolina, Ohio and Indiana. Two more states next week, and then another six in two weeks. Daily Kos is the go-to place for a summary of what's on the ballots today.
The big event is North Carolina, where the U.S. Senate primary is on the Republican side. The titles provide a good indication of which candidates are being supported by Republicans who care about a Senate majority. That would be the speaker of the state House (Thom Tillis) and not the doctor (Greg Brannon) or the minister (Mark Harris). Tillis is heavily favored to get the most votes today, but there hasn't been much polling and it's impossible to know whether he'll reach the 40 percent threshold to avoid a runoff.
Republicans don't have to defeat North Carolina's incumbent Democratic senator, Kay Hagan, to get to 51 seats in the Senate, but it will be a lot harder if they don't. Republicans don't need to nominate Tillis to defeat Hagan, but it will make things a lot easier. That's why this one is important. It matters less whether Tillis wins today or after a runoff, but if he doesn't get to 40 percent today then there's no guarantee he'll actually win a runoff -- primary elections can be highly volatile.
Today's results, and all the May primaries, are going to lead pundits to jump to conclusions about "the establishment" versus "the Tea Party." Two excellent counterweights to the hype: Stu Rothenberg emphasizes the complexities of the various groups on both sides of those divides; Ed Kilgore makes several important points, including that if seemingly strong candidates are forced to take radical positions to win their primaries, they may emerge less strong.
I'll add one more thing: Within Congress, what often matters is the focus of incumbent paranoia about re-election. And it is paranoia: Ninety percent or more of all incumbents will win in this cycle, and the next cycle, and the one after that. But it doesn't take too many Bob Bennetts for incumbents to redirect their focus toward preventing a Tea Party challenge, and that can be important even if all those challenges fail. That is, it it goes beyond taking radical positions on public policy, to clinging as tightly as possible to the most radical members of the Republican conference.
This column does not necessarily reflect the opinion of Bloomberg View's editorial board or Bloomberg LP, its owners and investors.