The Biggest Loser from Russia Sanctions? Visa
U.S. sanctions against several Russian banks pushed Russia to start building a national payment system, shunting aside Visa and Mastercard, which now control 90 percent of the Russian market.
by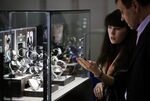 Conventional wisdom says that sanctions against Russia are more palatable to the U.S. than Europe, because U.S. companies have less business to lose. The last part of that sentence is about to become untrue -- at least until the European Union starts punishing Russia's economy.
Two U.S. companies, Visa and Mastercard, will be the first to feel significant blowback from the sanctions. Their losses will exceed even the direct cost that U.S. sanctions to date -- excluding capital flight due to fears of possible future measures -- have inflicted on Russia's financial system.
On Monday, Russian President Vladimir Putin signed amendments to the national payment system law, which both Visa and Mastercard recently warned investors about in their earnings calls. The new law completely disrupts the business and technological models used by Visa and Mastercard in Russia, where they process about 90 percent of all card transactions.

If they want to continue working on the domestic market, Visa and Mastercard will need to keep transaction data within Russia's borders. The rather vaguely formulated law also tells them to cede "control" of their operations to the Russian central bank or other Russian entities, or else deposit collateral with the central bank to the tune of two days' processing volume. Oh, and there will be fines of up to 10 percent of the collateral deposit per day for unilaterally stopping service to a bank.
That last requirement is a direct response to U.S. sanctions against four Russian banks that belong to President Vladimir Putin's friends. The biggest, Bank Rossiya, is the country's 16th largest by assets. In terms of the size of their retail operations, the sanctioned banks are dwarfs: SMP Bank is only number 30 in private deposits, and the others have even smaller client bases. When the U.S. moved against the banks' owners, clients voted with their feet: Rossiya lost 5 percent of retail deposits in March, and SMP lost 13 percent, even though the sanctions against it came in April: Depositors understood which way the wind was blowing. There must have been further outflows in April, for which data are not yet available.
Still, for the Russian financial system and the U.S. payment networks that serve it, the four banks' problems were barely a hiccup. Visa and Mastercard say the banks accounted for less than 1 percent of their Russian business volumes, before getting cut off from the payment systems.
Russian legislators were, of course, inclined toward vengeance when they drafted their response. They also had valid practical considerations: Someone will need to process domestic payments, even if the entire Russian banking system is hit with U.S. sanctions. So the law Putin signed also decrees the creation of a national card processing system controlled by the central bank, a technological task that can probably be completed by the end of 2014. Several Russian operators have already developed much of the required software.
Visa and Mastercard need to decide whether they want to stay in the game and compete with the national system or just make deals with it for the processing of cross-border transactions, the way they do in China, where the local payment system, UnionPay, has a monopoly on local business, or in France with the Carte Bancaire system.
William Sheedy, Visa's executive vice president for corporate strategy, said on a recent earnings call that "the Russian market is huge business for us as a country, growing faster than any other country we have within the global franchise." Under the new law, however, the costs of continuing to provide full service may outweigh the benefits. According to the Russian central bank, the volume of card transactions in Russia reached 7.3 trillion rubles ($204 billion) in the 4th quarter of 2013. If the two U.S. companies processed 90 percent of that volume, about $2 billion per day, they would have to deposit $4 billion with the central bank between them. Their combined Russian revenue in 2013, at 0.1 percent of transaction volume, looks to have been about $724 million, although that may be a generous estimate: Mastercard says Russia accounts for 2 percent of its revenues, a mere $167 million in 2013.
Then there are the fines for ceasing service, which the card companies will be forced to do in accordance with U.S. law as sanctions are rolled out.
The payment companies are talking to the central bank to clarify their options. "A lot will depend on the dialogue with the Central Bank of Russia, which will establish the rules and the processes by which the legislation actually gets implemented on the ground," Mastercard chief executive Ajay Banga said on an earnings call on May 1. "What's foreign, what's domestic, how do you become more domestic, does on-soil with clearing authorization and settlement make you more domestic? Is it something else that makes you more domestic? Not clear."
Visa chief executive Charlie Scharf cannot believe Russia would go as far as to force the U.S. operators out. "If you just get down to reality for a second, we have 100 million cards in Russia today," he told analysts. "And it's not in anyone's best interest, inclusive of the Russians, to make those cards not available to their own citizens. And so that's why we are hopeful that as this situation unfolds that people understand things like that".
Russia, however, appears to be resigned to the loss of Visa and Mastercard as domestic payment processors, should they consider the costs of keeping that business too high under the new law. It is conceivable that the companies will soon only be able to process cross-border payments for their Russian cardholders. While these provide about 10 times the yield of domestic transactions, Banga says most of the company's Russian revenue comes from domestic payments.
The upshot is the potential loss of a large market for two major U.S. companies. There will also be a considerable cost for the Russian taxpayer, who will foot the bill for the creation of the national payment system, as well as inconvenience for Russian banks and their clients. Yet these will be one-off costs and in the longer term a national payment system is a potentially profitable venture. The Chinese experience inspires Putin's advisers: UnionPay, whose cards are accepted in 135 countries, is now bigger than Mastercard and second only to Visa in processing volume.
The U.S. government needs to think though the effectiveness of sanctions as diligently as European governments do. So far Visa and Mastercard stand to lose more than Ukraine is likely to gain.
This column does not necessarily reflect the opinion of Bloomberg View's editorial board or Bloomberg LP, its owners and investors.