Ted Cruz Builds His Case for 2016
Senator Ted Cruz of Texas is hated by a lot of people. That doesn't mean he won't win the Republican presidential nomination in 2016.
by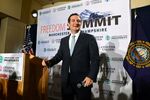 Ted Cruz, the Republican senator from Texas, had a good 2013 -- and he's having an even better 2014.
Cruz became a senator at the start of last year. By the end of it, he had become a hero, and plausible presidential candidate, to many Republicans. (Now would be a good time to note that he's an old friend of mine.)
He ended the year hated by many other Republicans, who blamed him for a government shutdown that temporarily hurt the party's image in return for nothing. Republicans and Democrats alike in Washington portrayed Cruz as someone who was good at getting the most conservative Republicans to cheer him but not at accomplishing his policy objectives.
This spring, however, he succeeded in blocking a package of changes to the International Monetary Fund that the White House wanted -- a fight other Republican senators thought couldn't be won. Even more impressively, Cruz, supposedly too polarizing and hated by his colleagues to build consensus, got a bill banning a controversial Iranian diplomat from entering the U.S. through Congress unanimously. President Barack Obama signed it.
The prospective "Cruz for President" campaign has been getting good breaks, too. The senator's most probable path to the nomination would involve consolidating the most conservative voters in the Republican Party and then beating a more moderate, "establishment" candidate. That's a tall order, but it has recently gotten a little shorter.
Moderate candidates usually win the Republican primaries, partly because the party's establishment usually settles on a candidate earlier than conservatives do. Right now, though, the sort of Republicans who supported Mitt Romney before any primary votes were cast in the last campaign don't know what to do. They were inclined to support New Jersey Governor Chris Christie, but they now have serious doubts about him -- and are waiting to see if former Florida Governor Jeb Bush gets into the race. That means there's no early moderate front-runner.
Senator Rand Paul seems at the moment to be Cruz's chief obstacle to consolidating the right wing of the party. In April, the WMUR Granite State Poll put Paul in the lead among Republicans in New Hampshire, which holds a crucial early primary. But Paul's lead is not large, and Cruz has been gaining.
That's one pollster, in one state, long before any primary. Cruz hasn't even said he's running. I wouldn't bet on Cruz's winning the nomination. But it's looking a little bit more likely than it did. And Cruz, who was written off by Texas Republican power brokers when he ran for the Senate, has been underestimated before.
This column does not necessarily reflect the opinion of Bloomberg View's editorial board or Bloomberg LP, its owners and investors.