Senate Democrats' Prospects Brighten in South
Remember when a new Republican majority seemed like a sure thing?
by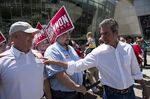 Democrats are cautiously optimistic they can hang on to the Senate this year. Surprisingly, this bright forecast is fueled by a sense they'll do better than expected in close contests in the Republican-dominated, Barack Obama-hating South.
Until recently, the conventional political wisdom had been that Republicans will gain at least the half-dozen seats they need to gain the majority in the Senate. Republicans say they have put in play as many as a dozen Democratic-held seats, while only a few Republican incumbents face any danger.
A disproportionate number of competitive contests are in the South, or in border states, which went decisively Republican in the last presidential race.
But looking at the specific races in the South, Democrats say, a combination of intraparty Republican strife and weaker candidates, along with the Democrats' ability to strike distance from Obama, suggests they can hold their own in Dixie. Republicans dispute this bottom line, though they accept some of the particular analysis.
There are half-dozen potentially competitive races in the South, three each for seats held by the two parties. Outside of that region, the expectation is that Republicans will gain at least three or four seats. This assumes a normal election cycle, favoring the out party -- in this case, the Republicans -- and not a national tide. If that's correct, control will come down to whether the Democrats can stay even or close to even in the South.
Here's how they size up those contests today:
Arkansas: Until a few weeks ago, most Washington analysts and political operatives believed Democratic Senator Mark Pryor was toast in a state that has turned deeply red since President Bill Clinton left office. Pryor's challenger, Republican Congressman Tom Cotton, is young, a military veteran and a favorite of conservatives.
Instead, recent surveys have shown Pryor with a small lead, which squares with private polls. The incumbent, whose father was a popular governor and senator, has distanced himself from the administration and is running to the right of Obama, except when it comes to Medicare and Social Security, where he's running to the left of the president. He has an ace in the hole: Bill Clinton, who remains very popular in the Razorback State. When the former president asked how he could help Democrats keep a Senate majority, he was told, "Move to Arkansas." Clinton will make a major campaign and fundraising push for Pryor.
North Carolina: The Koch brothers have spent millions attacking Senator Kay Hagan, taking a toll on her poll ratings. National Republicans are pleased that a state legislator, Thom Tillis, is expected to turn back two right-wing challengers in today's primary.
Democrats counter that Tillis's weaknesses haven't surfaced in the primary, and they believe they have ammunition for the general election. Moreover, black voters may be more energized than usual as a reaction against what they see as efforts by North Carolina Republicans to restrict voting rights. Democrats consider this race a toss-up.
Georgia: Michelle Nunn has one of the few resumes that might sell in Georgia this year: She is the daughter of a popular former senator, worked in a nonprofit with the Bush family and, insiders say, has the most impressive learning curve of any new Democratic candidate this year. The Democrats' dream of an extreme right-winger winning the Republican nomination -- the incumbent, Saxby Chambliss is retiring -- won't be realized. But there's no strong Republican candidate and the top two contenders in the May 20 primary may be forced into a divisive run-off. In the general, depending on her opponent, Nunn will be somewhere between a slight favorite or slight underdog.
Kentucky: There will be no candidate who runs a more expensive or shrewder general-election campaign than Senate Republican leader Mitch McConnell, who's expected to easily turn back a right-wing primary challenge this month. McConnell's only liability is a big one: Kentucky voters don't like him; there is no other incumbent senator running this year with such low poll approval ratings. Democrats have a young, inexperienced candidate, Secretary of State Alison Grimes. Despite the incumbent's war chest, money won't be an issue because the prospect of knocking off the Senate Republican leader is attracting lots of Democratic cash. This race may come down to sentiment about Obama, who lost the state by 23 points, versus McConnell

Mississippi: The state's Republican establishment, led by former Governor Haley Barbour, is going all out for the six-term incumbent senator, Thad Cochran. He faces an ultra-conservative challenger. The Tea party sees this primary as its best shot for knocking off a Republican. If Cochran, a 42-year veteran in Congress where he's enormously popular, wins the June 3 primary, the Democrats can throw in the towel.
If he's upset, however, Democrats believe they'd have a real shot in this solidly Republican state.
Louisiana: The political environment, especially in a non-presidential year, is toxic for Democrats. The only reason this race isn't lost is that the incumbent, Democrat Mary Landrieu, is a resourceful politician from a legendary political family; her brother is mayor of New Orleans. If no one gets more than 50 percent on Nov. 4, there will be a runoff. As of today, Louisiana political experts say, that's probable. Then there'd be an election in December that might determine which party controls the Senate.
This column does not necessarily reflect the opinion of Bloomberg View's editorial board or Bloomberg LP, its owners and investors.